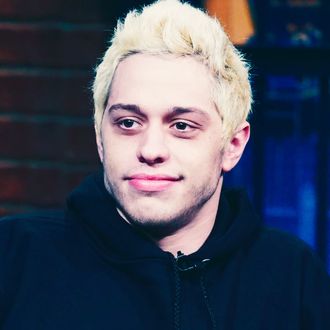 Pete Davidson.
Photo: NBC/NBCU Photo Bank via Getty Images
In his first public sighting following his shocking split from Ariana Grande, Pete Davidson was sporting a classic post-breakup outfit and looking pretty somber. According to a source close to the Saturday Night Live comedian, though, Davidson is simply trying to focus on himself right now — and really, he's "doing fine."
Davidson, 24, and Grande, 25, stunned the world just over four months ago when they got shotgun engaged after dating for a mere month. Because of their constant (but cute) PDA and their matching tattoos and freaking pet pig, their love at times felt infallible — until they called off their engagement last weekend. Following the split, Grande told her Instagram followers that she's "very sad" before promptly quitting social media; she also returned her ridiculously expensive engagement ring.
Earlier this week, a source told E! News that Davidson was "heartbroken." Meanwhile, according to another source close to the comedian, he's now "doing fine."
"He has a strong support system of family and friends around him that are keeping him laughing," the source told E! News. "While Pete's focusing on himself, he always wishes the best for Ari."
But while he may be "doing fine," his look in his first public sighting was very Somber 20-Something Man Going Through Some Shit. On Wednesday, the 24-year-old was spotted in New York City wearing a black-and-red Eckō Unlimited sweatsuit with the hood up, presumably to conceal his pained face.
Turns out breakups … are bad.