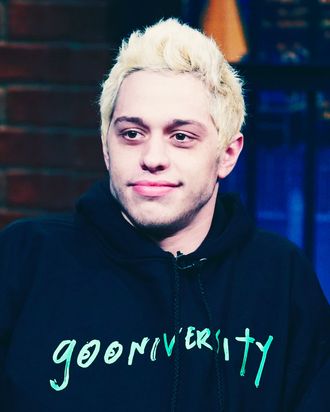 Pete Davidson.
Photo: NBC/NBCU Photo Bank via Getty Images
Whoever declared post-breakup haircuts to be a gendered ritual was wrong, as evidenced by Pete Davidson's decision to go under the scissors not even two weeks following his surprising split from Ariana Grande.
On Tuesday, celebrity barber Micah Walker, the "dude that keeps everyone fresh," Instagrammed a photo of none other than 24-year-old Davidson, whose hair appears to be a few inches shorter than it was earlier this week. He does, however, still have his bleached blonde tips.
"My boy @petedavidson came thru for the fresh cut!!" reads Walker's caption, which hashtags including #freshcut, #petedavidson, and #barberlife.
Maybe now he'll stop sulking around with his sweatshirt hood up.