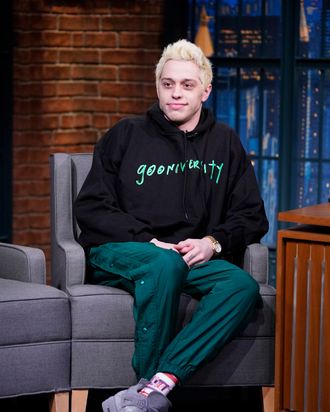 Pete Davidson.
Photo: NBC/NBCU Photo Bank via Getty Images
In his first public acknowledgement of his breakup with Ariana Grande, Pete Davidson joked about some of his permanent body art. During his comedy set in Los Angeles at Judd and Pete for America, a benefit show for Swing Left, Pete acknowledged that getting multiple tattoos with his ex-fianceé was probably not his best move.
"I was like … 'I'm not stupid,' " Pete reportedly said, according to Us Weekly. "And tonight [my friend and I] were in my kitchen and he was like, 'Yo, bro. Turns out, you were stupid.' "
He also addressed the fact that he will no longer be living in Ariana Grande's extremely nice apartment. He acknowledged the GoFundMe account someone made for him called Pete Davidson Homeless, and said he was looking for a new living situation.
"Anybody have any open rooms?" Pete asked. "I'm looking for a roommate."
A few days after news of their breakup spread, Pete was spotted looking "fine," though he did cancel a comedy set at a university for "personal reasons" that same week. He told the audience at the benefit show that "I think you could tell I didn't want to be here … There's a lot going on."
But participants said that he was in a generally good mood at the show and even laughed at some of his own jokes. And apparently, he's never been sad enough not to masturbate. "You ever have the feeling, you're so sad you can't [masturbate?]," he said. "That hasn't happened to me."
If he really is looking for a new roommate, reselling that engagement ring could definitely help him with the first few months of rent.