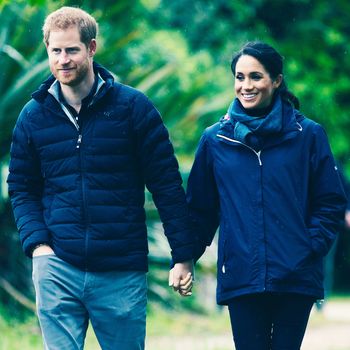 Prince Harry and Meghan Markle.
Photo: Paul Edwards/Getty Images
The world is still wondering what Meghan Markle and Prince Harry, the Duke and Duchess of Sussex, will name their baby, and it will likely be wondering for many more months. In the meantime, it is making do with nicknames for the royal baby, like Prince Harry's latest, which he revealed to the public in a speech on the never-ending royal tour of Australia, New Zealand, Tonga, and Fiji: "little bump."
Where could Harry have gotten the inspiration for such a nickname? Possibly, another British redhead with a sensitive soul? In case they are in need of more writerly imagination, we have provided Meghan and Harry a list of alternative nicknames for the baby, many of which we are already using in casual conversation around the office.
• "Small Knoll"
• "Miniature Mound"
• "Developing Bulge"
• "Protruding Pouch"
• "Not Fully Grown Yet Fetus"
• "Little Lady Lump"
• "Cute Anthill"
• "My Little Breakfast Burrito"
• "A Good Excuse To Wear Loose-Fitting Reformation Dresses"
Check out our official updates on the birth of Meghan Markle and Prince Harry's royal baby.