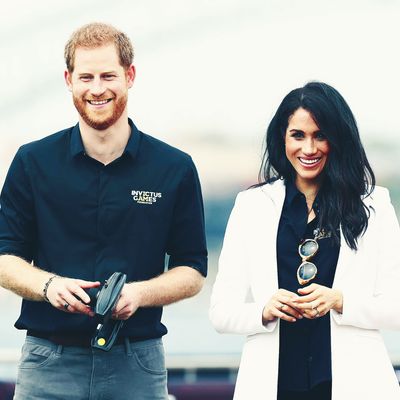 The royal couple.
Photo: Mark Metcalfe/Getty Images for the Invictus Games Foundation
We humble commoners may not know too much about Duchess of Sussex Meghan Markle's recently announced pregnancy, aside from the fact that she has already had her 12-week scan, meaning she's probably already out of her first trimester. The royal baby is expected to come in spring 2019.
But we do have possible insight into the baby's sex — or at least what Prince Harry wants it to be. Sunday morning, at an event on their royal tour of Australia, a fan yelled out to Harry, "I hope it's a girl!" Harry then responded "So do I!" as he walked away.
Amid impressing Australia's population with her homemade banana bread and bump-forgiving dresses, Markle has skipped out on some recent events due to her pregnancy — leaving Harry to shake hands with fans at the road-cycling portion of the Invictus Games. At an event Friday at Bondi Beach, where she and Harry participated in an "anti–bad vibes circle," Meghan reportedly opened up about the toll of pregnancy, saying that it was "like having jet lag."
Is it possible that Meghan and Harry already know the sex of their child? Harry has said recently upon greeting a new mom with a 5-month-old named Harriet that that is a "great name" — though that's more likely a joke about the name's similarity to his own than a hint at the royal baby's sex. Experts (that are not Kelly Conaboy) are saying the baby will likely be named Prince James, for a boy, or Princess Victoria, for a girl.
Regardless, we'd be lying if we said we didn't hope the same as Harry.