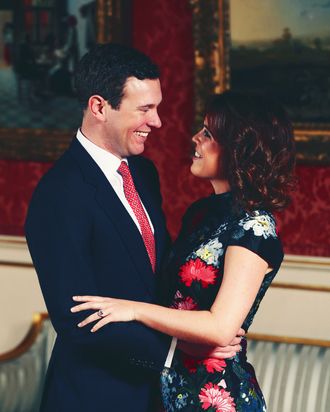 Jack Brooksbank and Princess Eugenie.
Photo: Jonathan Brady/AFP/Getty Images
Do you remember May? We certainly do. Back then, the sun was shining, birds were chirping, and Meghan Markle and Prince Harry were getting married in the royal wedding of our dreams. Sadly, that time is behind us, but thankfully, there's another royal wedding on the horizon: On Friday, October 12, Princess Eugenie will marry her longtime boyfriend Jack Brooksbank. What great news for us all!
So you're probably wondering: What's the deal with this wedding? Or, more specifically, when is it happening, will there be hats, are you invited, how can you watch, and who even are these people? Here, let us fill you in on everything you need to know.
First things first: How can I watch the royal wedding? The latest royal wedding will be broadcast on Friday, October 12, on ITV in the U.K., and TLC Stateside. TLC's broadcast will start at 4:25 a.m. ET (ahhh), but then it will be re-aired at 7:25 a.m. ET. (If you're in the U.K., ITV's broadcast will start at 9:25 a.m. GMT.) You can also watch it on the royal family's social media channels (YouTube, Twitter, and Facebook).
Cool! So, erm, who exactly is getting married? In case you aren't an obsessive royal watcher — or maybe you just focus on the Big Four of the royal family's millennial generation (Prince William, Kate Middleton, Meghan Markle, and Prince Harry) — allow us to introduce you to the bride and groom. Princess Eugenie of York, 28, is the daughter of Prince Andrew of York and Sarah Ferguson, duchess of York, and the granddaughter of Queen Elizabeth. Her fiancé Jack Brooksbank, 32, formerly managed a nightclub and is now the U.K. ambassador for George Clooney's tequila brand, Casamigos.
Okay, cool. And how long have we known about this engagement? Well, you'd be forgiven for not noticing the announcement of Princess Eugenie and Jack Brooksbank's engagement, since it was revealed in January when we were all in full-on Meghan–Harry wedding mania. The princess and Jack had been dating for seven years prior to getting engaged — they met at a Swiss ski chalet, how chic — and he proposed in Nicaragua in early January. The pink Padparadscha sapphire ring he gave her is huge. Look:
Great, I'm all caught up. Now, where is this thing going down? The royal wedding is taking place at a very familiar location: the very same place as the royal wedding of Meghan Markle and Prince Harry, St. George's Chapel at Windsor Castle. Imagine having the confidence to do that!
Will it basically be the same as Meghan and Prince Harry's wedding? Apparently, no. First of all, Princess Eugenie is not the child of the heir to the throne, so it will be different in that regard. And secondly, this wedding is shaping up to be surprisingly bigger in certain ways: It will be a two-day bash instead of just one (interesting) — and the Saturday will involve a "festival-style event complete with a fairground and food stalls."
How nice and bizarre for them! And so … am I invited? Not to be rude, but probably not! Only 850 people made the guest list for this wedding — and the invitations went out weeks ago, sorry.
Rude. But who is in the wedding party? So glad you asked! The official list was released on Wednesday:
• Princess Beatrice will be serving as maid of honor.
• The groom's brother Thomas Brooksbank will be best man.
• The bridesmaids include: Princess Charlotte (daughter of Prince William and Kate Middleton, obviously); Savannah and Isla Phillips (daughters of Peter and Autumn Phillips), Mia Tindall (daughter of Mike and Zara Tindall), Maud Windsor (daughter of Lord and Lady Frederick Windsor), and Theodora Williams (daughter of singer Robbie Williams and Ayda Fields).
• The page boys will be Prince George (son of Prince William and Kate Middleton, but you already know this) and Louis de Givenchy (son of Olivier and Zoe de Givenchy).
• There will also be two special attendants: Lady Louise Mountbatten-Windsor and James, Viscount Severn (daughter and son of Prince Edward and Sophie Wessex).
Who else will be at the royal wedding? Here's what we know for sure:
• The queen will be there. Prince Philip will show up if he "wants."
• Also, Kate Middleton and Prince William are attending.
• Prince Harry and Meghan Markle are making an appearance. Here they are standing near Princess Eugenie in a picture:
• Prince Harry's two serious ex-girlfriends, Chelsy Davy and Cressida Bonas, are also expected to be there. He has also long been rumored to have had a fling with singer Ellie Goulding, and she may be attending as well.
Will there be giant British wedding hats at this one? You betcha!
What else do we know about the wedding? Well, other than hats, opera singer Andrea Bocelli will apparently be performing; the cake is red velvet and chocolate, and will feature autumn colors and sugar designs; and the couple will take a post-ceremony carriage ride through Windsor. Here's the route they'll be taking:
As for Princess Eugenie's wedding dress, all we know at this time is that she plans on wearing a gown by a British designer. Bookies currently favor Erdem as the designer (but keep in mind, no one guessed Meghan Markle's wedding dress designer — Clare Waight Keller for Givenchy — correctly).
What's the dress code for the royal wedding? Basically: fancy. The men will have to wear morning suits, and the women will be day dresses and the aforementioned hats.
And the most pressing question of all: Will George Clooney be slinging his tequila behind the bar at the reception like he did at Meghan Markle and Prince Harry's wedding? Who knows. At this time, we can only pray.
This post has been updated throughout.