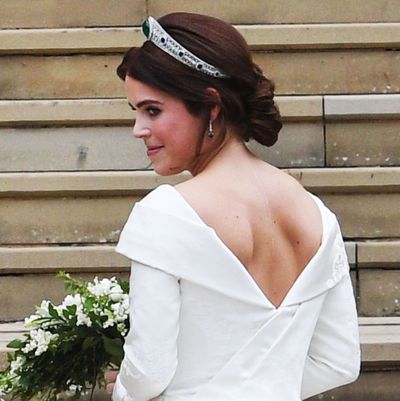 Princess Eugenie.
Photo: Jeremy Selwyn/Getty Images
Princess Eugenie has been vocal about her scoliosis, which she had treated with surgery at age 12. She reportedly requested that her wedding gown — which she wears today as she marries longtime boyfriend Jack Brooksbank — be cut with a low back to show her scar. The custom, open-back dress was designed by the British-based Peter Pilotto and Christopher De Vos.
"I think you can change the way beauty is, and you can show people your scars and I think it's really special to stand up for that," Eugenie said in an interview before the wedding.
Eugenie recently went back to the Royal National Orthopedic Hospital's Stanmore site, where she was treated back in 2002, to visit young patients. She also announced that she will be a patron for its redevelopment plan, complete with a new facility called the Princess Eugenie House. She even invited the surgeon who performed on her, Jan Lehovsky, to the wedding, along with several other hospital staff members.
Eugenie had two 12-inch metal rods inserted in her back during an eight-hour operation. When discussing her choice to invite the surgeon in a pre-wedding interview, Eugenie said, "It's a lovely way to honor the people who looked after me and a way of standing up for young people who also go through this."
"Without the care I received at the RNOH I wouldn't look the way I do now; my back would be hunched over," she wrote on the hospital website. "And I wouldn't be able to talk about scoliosis the way I now do, and help other children who come to me with the same problem. My back problems were a huge part of my life, as they would be for any 12-year-old. Children can look at me now and know that the operation works. I'm living proof of the ways in which the hospital can change people's lives."