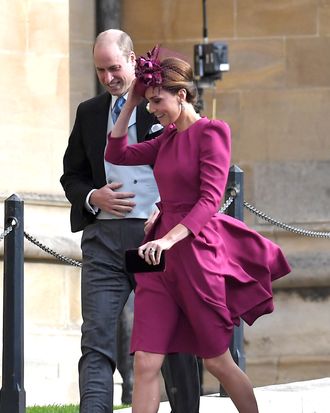 The wind stole the show at the royal wedding.
Photo: James Gourley/REX/Shutterstock/James Gourley/REX/Shutterstock
As with any royal wedding, we anticipated at least some drama at Princess Eugenie's nuptials to Jack Brooksbank on Friday morning. But we had no idea that the royal wedding guests would be met by perhaps the most formidable opponent possible: the wind.
That morning, Weather.com described the scene at Windsor, U.K., which is about a 20 minute drive from London, as "mostly cloudy/windy." But that forecast didn't really encompass the effect that the wind stemming from Storm Callum (which brought 70 mph winds to Ireland and Wales on Friday morning) would have on royal wedding guests. Hats went flying, people frantically tried to keep their outfits in place, and the British royal tabloids went wild with reports of the "chaos" from the storm.
Here are some images of royal wedding guests fighting against the elements.
Cara Delevingne's tux attempted to go with the wind.
Naomi Campbell held onto her hat.
But other people weren't so lucky.
Hats truly went flying.
So did the adorable pageboys and bridesmaids (but no one was hurt, luckily) …
… including Princess Charlotte, who was totally fine and extremely cute.
But a tree at St. George's Chapel fell over.
Well, Prince Harry's ex-girlfriend Chelsy Davy seemed to be at least somewhat entertained by having to fight the wind, so that's nice.