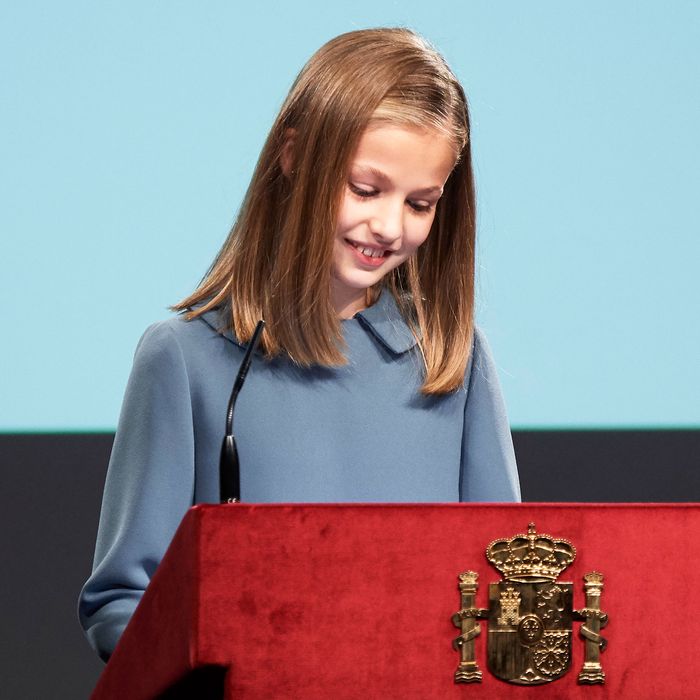 Princess Leonor.
Photo: Carlos Alvarez/Getty Images
On Wednesday, 13-year-old Princess Leonor of Spain gave her first public address as her father, King Felipe VI, looked on with evident pride. This was the young teen's first time speaking publicly, and it was symbolically significant, as well — her dad spoke publicly for the first time at age 13, as well, in 1981.
As the Associated Press reports, Princess Leonor de Borbón's address took place at an event marking the 40th anniversary of Spain's Constitution at the Cervantes Institute in Madrid. The oldest daughter of King Felipe and Queen Letizia — and granddaughter of Queen Sofía — read aloud the first of the 169 articles of Spain's Carta Magna at the event. She appeared onstage after her father read the law's preamble.
The AP notes that Princess Leonor — who is the heir presumptive to the throne (she has a younger sister, 11) — spoke with a "firm voice" as she delivered her address. The article she read aloud states that Spain follows a parliamentary monarchy political system. Her father stood next to her and looked on as she spoke, and afterwards, the two beamed at each other as the king applauded his daughter.
The princess's first public speech came less than a year after she was awarded one of Spain's most coveted honors, the Order of the Golden Fleece, in January, when she was just 12 years old — a "symbolic step" in the young princess's path to one day becoming queen. Awarding her the honor, King Felipe reportedly said in a speech at the time, "I know it may seem like you have lots of challenges and responsibilities to face, all important and difficult, but know that you have the support of many people who want the best for Spain, for the crown, and for you."