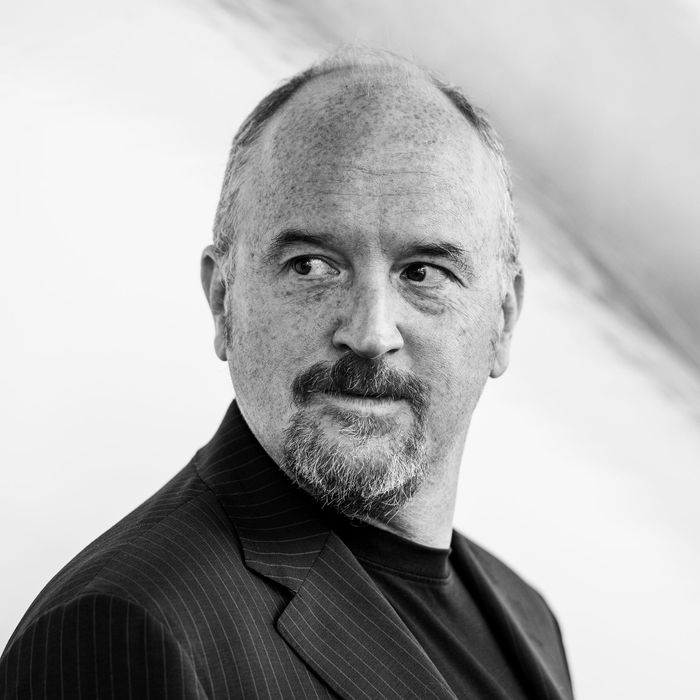 Louis C.K.
Photo: Roy Rochlin/FilmMagic/Getty Images
Louis C.K. is showing no signs of quitting; after spending nearly ten months out of the public eye following multiple accusations of sexual misconduct, which he admitted were true, he performed two surprise sets at the Comedy Cellar and made a recent stop at the West Side Comedy Club, where he joked about his "weird year." And last night, C.K. came back to the Cellar — though this time, he was met with protesters outside.
According to a report in the New York Times, this was the first set in which C.K.'s name was openly publicized; previously, he only showed up to perform surprise sets. Women stood at the door of the famed West Village club holding cardboard signs with statements like, "When you support Louis C.K., you tell women your laughter is more important than their sexual assaults and loss of their careers." One sign, held by Lana McCrea, said, "Does this sign make you uncomfortable, Louie?"
"I can't change whether or not Louis C.K. gets the comeback he so desperately craves yet has done nothing to deserve," McCrea, the legal director of SAFER Campus, an organization that fights sexual misconduct and abuse on college campuses, told the Cut. "What I can change is whether or not he meets resistance. And I feel it's my duty to resist. It's about more than Louis C.K. It's what we deem acceptable in our society, in our community. And what he did is not acceptable. Not by a long shot."
The show was Louis's first comeback show to be publicly advertised; previously, he only performed surprise sets in the year following his admission that he had masturbated in front of several women without their consent. There was reportedly a "buzz" around the club, with some passerby trying to get standby tickets, and discomfort when the protesters tried to get ticket-holders to walk out during C.K.'s set. The crowd greeted him "warmly."
C.K. made varying iterations of the same jokes from his last set, vaguely referencing the #MeToo allegations. "So what kind of year have you guys had?" he said, starting off the set. "They tell you that when you get in trouble you find out who your real friends are. It's black people, it turns out. They'll stick by you."
"I need to make jokes because I need an income," he later added. C.K. told the crowd that he lost $35 million "in an hour" as a result of the scandal. "Hard things, you survive them or you don't. I think even hell you can survive. Hell is not that bad. I've been there." During his last set at the West Side Comedy Club, C.K. opened the show by saying "It's been a weird year," adding that he "lost $35 million in an hour," and repeatedly said he's been to "hell and back." At one point, he reportedly joked about meeting Hitler while in hell.
The showgoers gave mostly positive reviews of C.K.'s set, which also included lines about how much he likes ice cream and asking audience members if they wonder how many sexual partners their mother has had. "Some of the stuff seemed like it was a little raunchy," said Maria Bocanegra, who bought tickets for the show before C.K. was on the bill. "But I'm like, 'Well, that's Louis C.K.' But at the same time, I was like, 'Is he doing this because he's trying to make a statement that 'I don't care?'"
When asked about the protesters, she added, "I respect those women for doing that … totally. But was I ready to, like, leave a show for that? I don't think so."
Comedy Cellar owner Noam Dworman released a statement Tuesday, responding to the backlash: "We've taken a lot of criticism for surprising people with his unannounced performances. I'm afraid now we will be criticized for the opposite."
This piece has been updated to reflect with new information.