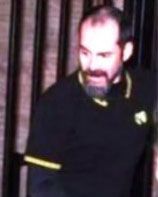 Geoffrey Young.
Photo: NYPD
A member of the far-right group Proud Boys who was arrested for attacking protesters in New York City last weekend allegedly slammed a Muslim woman to the ground and called her a "terrorist" last year, Gothamist reports.
On Thursday, police arrested and charged 38-year-old Geoffrey Young with attempted assault and rioting for his involvement in a brawl outside in the Upper East Side last Friday. Young is a member of the Proud Boys, a self-proclaimed "western chauvinist" group known for their racist views, absurd rituals, and violent street fights. The brawl on Friday exemplified the last of these things: Video footage captured by a journalist shows several Proud Boys — one of whom appears to be Young — brutally beating two anti-fascist protesters following a talk by the group's creator, Gavin McInness, outside the Metropolitan Republican Club. (Police also arrested three anti-fascist protesters for allegedly punching a Proud Boy and stealing his backpack.)
As one might expect, Young has allegedly committed violence before. Just hours before the Friday brawl, a Muslim woman — seemingly coincidentally — published an anonymous piece on Medium accusing Young of assaulting her at the anti-Islam "March Against Sharia" in Manhattan last year.
"He grabbed me by the throat and pushed me up against the wall. He held me there in a choke-hold, but because I was struggling he slammed me to the ground and tried to put his whole body on top of mine," she wrote. "I kept fighting back so he slammed me again on my left side and pushed my face into the sidewalk, and then slammed me one more time before he put his knee on the back of my head while he kept trying to choke me."
Per Facebook screenshots included in the blog, Young bragged that he "[bashed] that terrorist breeder," and changed his bio to note that he had become a "Fourth Degree Proud Boy" (there are four levels of membership; the first is declaring yourself a Proud Boy, the second is giving up masturbation, the third is getting a specific Proud Boys tattoo, and the fourth is getting into a physical fight for "the cause"). This, the writer claimed, showed that Young "leveled up by assaulting me, a small Muslim woman."
Following last weekend's melee, the New York City Police Department came under fire for their deferential of the treatment of the Southern Poverty Law Center–designated hate group, and various politicians urged further investigation into the violence.
"Hate cannot and will not be tolerated in New York," Governor Andrew Cuomo said in a statement. "Here's a message from a Queens boy to the so-called 'Proud Boys' — New York has zero tolerance for your B.S."