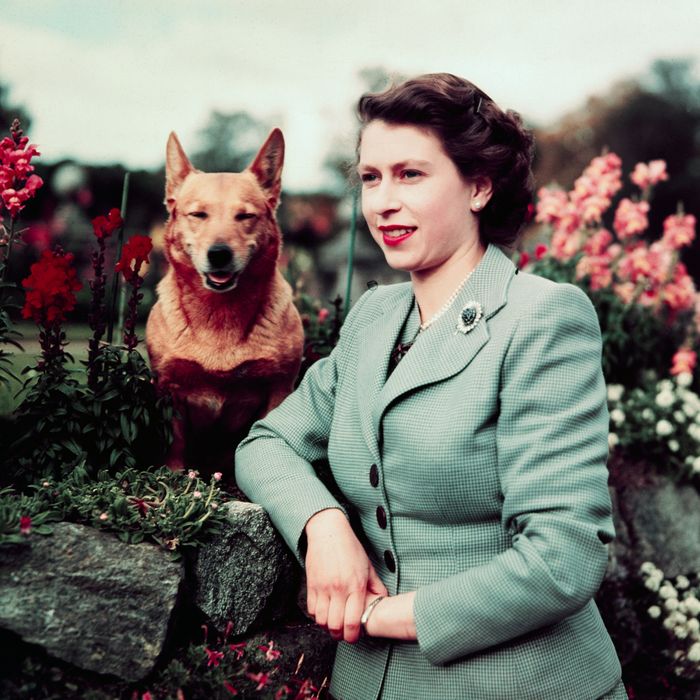 Queen Elizabeth and a corgi.
Photo: Bettmann/Bettmann Archive
We have some very sad news to bring you: Queen Elizabeth's last corgi, Whisper, has died. This follows the news earlier this year of the death of Queen Elizabeth's last corgi, Willow.
Wait.
What?
Queen Elizabeth's last corgi just died … but her last corgi already died months ago … and they are not the same last corgi. So how many final corgis does the queen even have? Let's figure this out together.
If there's one thing to know about the queen, it's that she absolutely loves corgis. Some of us know this fact like we know the back of our hands. But maybe you learned about her affinity for the small yet relatively long dogs through The Crown, when you see actress Claire Foy constantly surrounded by corgis. You may also have learned about this from Meghan Markle and Prince Harry's engagement interview with the BBC, in which the prince pointed out that his grandmother's corgis were immediately taken by her.
But the queen's affinity for corgis is more than just your average lover-of-dogs; she isn't adopting them at the local shelter (but you should, it's a nice thing to do!). Instead, Queen Elizabeth has had an eight-decade corgi dynasty that ended in April with the death of Willow.
Queen Elizabeth's family — the House of Windsor — got its first corgi back in 1933, when her dad, then the Duke of York but also the future King George VI, brought home a corgi puppy named Dookie, according to the New York Times. Next, a corgi named Jane joined the family, but tragically died in 1944 after getting hit by a car. When then-princess Elizabeth was 18, she was given a corgi named Susan.
For decades after that, the queen would breed dogs directly from Susan's lineage — so, Susan's descendants became dog royalty, if you will. That means, over the course of nearly 80 years, the queen has owned 30 different Pembroke Welsh corgis descended from Susan. Per Vanity Fair, Willow was born in 2003, and she was in the 14th generation of Susan corgis.
Before the time of Willow's death, she was the queen's last remaining corgi — descended from Susan, that is. You see, it was reported in 2015 that Queen Elizabeth would no longer be breeding anymore corgis, as she "doesn't want to leave any behind," which is both sad and thoughtful. So, when Willow died in April, Susan's lineage ended; the last of the Susan dogs was gone.
But! But! But! It turns out that the queen did still have another corgi in her possession — only, this corgi was not related to Susan: Queen Elizabeth adopted a corgi named Whisper from a former staffer in 2016. The dog passed away last week at age 12. So, Whisper was technically the last of her corgis, and Willow was the last of the Susan corgis specifically.
Fortunately, the 92-year-old still has two other half-corgis at home: Candy and Vulcan, two dachshund and corgi mixes. So while her last official corgi is gone, two similar-esque dogs live on.