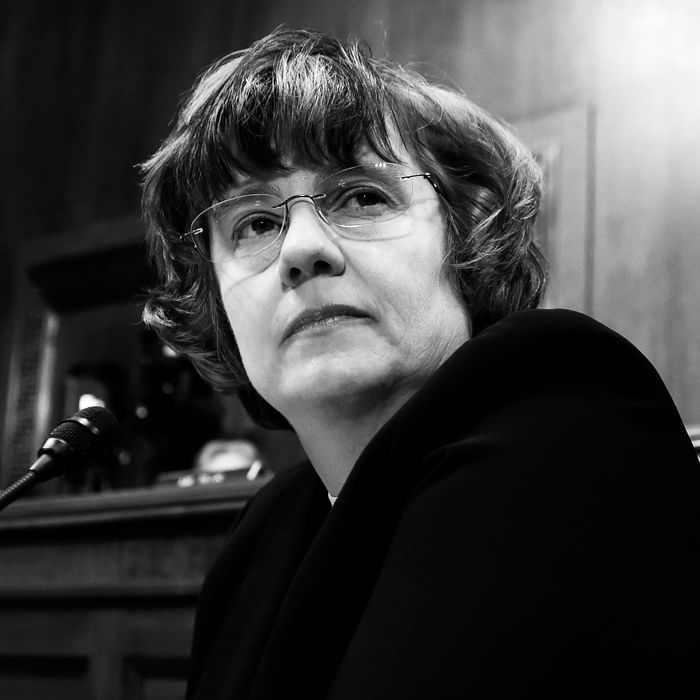 Rachel Mitchell, counsel for Senate Judiciary Committee Republicans.
Photo: Pool/Getty Images
Arizona defense attorney Matthew Long used to consider his former boss Rachel Mitchell a "mentor." But in the wake of the Brett Kavanaugh sexual-assault hearings, where Mitchell was called in to question Kavanaugh and his accuser, he says he finds her conclusions "very disappointing" and, putting it more bluntly, "absolute bullshit."
Last week, the Senate Judiciary Committee hired Mitchell to interrogate Christine Blasey Ford, the 51-year-old professor who claims that Kavanaugh attempted to rape her at a high school party in the early 1980s. Following Ford's heartbreaking testimony — and Kavanaugh's petulant one — Mitchell submitted a memo to the Senate Republicans on Sunday, writing that Ford's case was "even weaker" than a "'he said, she said' case," and that she does "not think that a reasonable prosecutor would bring this case based on the evidence before the Committee."
Long told Mother Jones that Mitchell's analysis is "disingenuous" and "absurd," as she didn't have "sufficient information to even draw these conclusions." He also called "absolute bullshit" on Mitchell's claim in the memo that Ford's potential witnesses have "either refuted her allegations or failed to corroborate them."
"It's bullshit because all we have are these signed statements, which are unreliable," he furthered.
The memo, Long argued, is not consistent with how Mitchell typically prosecutes sex crimes. He also slammed her failure to analyze Kavanaugh's testimony, which he said "reveals her political bias" — especially given the significant possibility that the SCOTUS nominee repeatedly lied under oath.
"Her only analysis should have been: The process you've given me, the information we have, is insufficient," Long told Mother Jones.