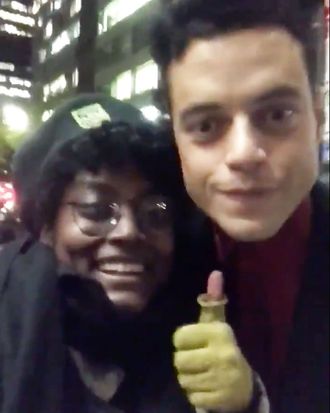 Xan Black and Rami Malek.
Photo: @enemyfilm/Twitter
Never meet your heroes, as they say, because your interaction could go viral and become a meme. On Monday night, Xan Black, 19, a film major at St. Francis College, learned this lesson the hard way, when they met actor and Internet Boyfriend Rami Malek outside of a Q&A for his new Freddie Mercury biopic, Bohemian Rhapsody. Black approached Malek to ask him to do a video shout-out for their friends. Malek said, "No, but we can take a picture." When he saw Black was already filming, he stopped the video on their phone, and swiped through to the photo setting.
It was a reasonable request on Malek's part, but the video was just awkward enough to trigger a wave of secondhand embarrassment that swept through Twitter; within an hour of posting the video of themselves, which Black described as "PROBABLY THE MOST EMBARRASSING THING TO EVER HAPPEN TO ME" the clip had accumulated over 100,000 views.
Soon, it had turned into a meme, with many people drawing comparisons between Malek and Jake Gyllenhaal and Ian Somerhalder, two actors who have been reluctant to take pictures with fans.
Black, for their part, says they never intended for the video to go viral, and that they're still a huge fan of Malek's. To get the story of what really happened, the Cut spoke with Black the day after they posted the clip.
I saw the video this morning. Can you describe what happened?
I left class around 1 or 2 p.m. I tried to go to Fallon to see him there, but then I gave up later on because I didn't know how to meet him there, so I just went to Florence Gould Hall where he was doing a Q&A for Bohemian Rhapsody. I walked up to him very calmly — he was signing a poster — and I started recording, which, I don't know on my end if it was good to start with the video. Because what I do is try to get shout-outs for my friends, like video messages. And I tried getting one for my friend, and as soon as I said, "Can you say hi to my friends?" he said, "No, but we get a photo though," and I didn't know how to react. And I was like, you know what, okay. And then he saw I was actually recording and stopped recording on my phone, and just started swiping through the camera options himself until he got to photos. And I thought to myself, I'm not gonna question it, he wants a photo. And it was fine, I got what I wanted.
How did you feel when he asked to get a photo instead and started swiping through?
I knew he was in a rush. He arrived at 9, the Q&A was at 9:15. And I don't know, it just felt kind of startling because I didn't expect that response for videos. And he's not obligated to do what I expect him to.
Have you ever approached a celebrity before for a picture or a video?Yes. I did this thing called the Build Series a lot, which is like a talk show, and a lot of people do promotion there. I met a lot of really nice people. You just have to smile and let them know that you're glad to see them, that you've been waiting. Just don't approach them in a rude way, like shoving a photo in their face for them to sign.
Are you a big fan of Rami Malek's?
Oh yeah. I'm a very, very big fan of him. It started with Night at the Museum, and then Short Term 12 and Mr. Robot. He's just such a good actor, and I myself want to get into film. He just embodies people. He's just a stunning performer, and getting to meet him … It was a real honor to meet him.
Did it change your opinion of him at all?
Not really. I still got tickets to see Bohemian Rhapsody, and I'll still go see it. I think he's a genuine person, and this was not at the right time, because this was at night, and he was rushing. I'm sure in a more intimate setting, in the daytime, he would be much more approachable.
How did you feel when you say that [your video] started going viral?
I did not think that would happen. Because when I post a selfie with someone I've met, it always gets like, 20 or 30 likes, so I assumed this would be like that. So I posted the video, and all of sudden, one of my mutuals was like, "Oh, I feel bad for you." And then it was two of my friends, and three, and then people that don't follow me started quoting me, and then after an hour it was already at over 100,000 views. And then it became a Twitter moment, and then I thought, Wait, he's probably gonna see this because he has a publicist, and I don't know what he would think about it. I would like to have a conversation about it just to tell him I did not mean for any of this. I just wanted … I don't know. Ah!
I went to bed at 3 a.m. last night because my phone kept vibrating with so many notifications even after I had muted the notifications from the tweet. People kept DMing me. It was really overwhelming. It became a meme and everything.