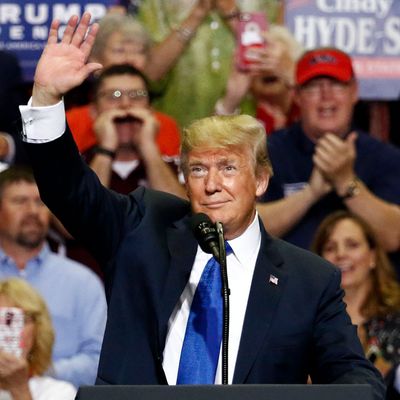 Donald Trump.
Photo: Rogelio V. Solis/AP
Cristen Hemmins is the chair of the Democratic Party in Lafayette County, Mississippi. She is also a sexual-assault survivor who has written, chillingly, about being abducted at gunpoint, raped, and shot by two men. So on Wednesday, when she learned that Jim Stephens, one of the election commissioners she was meeting with about monitoring the upcoming election, sat behind Donald Trump at a campaign rally and laughed as the president mocked Christine Blasey Ford, she had something to say about it.
Trump came to Mississippi on October 2 to campaign for Senator Cindy Hyde-Smith — the same woman who sat behind Senator Susan Collins as she announced on the floor that she would clinch Kavanaugh's nomination with her vote. Days before the rally, Christine Blasey Ford had testified that "indelible in the hippocampus is the laughter … their having fun at my expense."
Another indelible image is the delighted laughter from Trump's supporters as he mocked her for gaps in her memory, which she had carefully explained in the context of what trauma does to the brain.
Hemmins was too stunned to say anything at the election monitoring meeting, but after she left she pulled up the video again. Jim Stephens was the one in the red Ole Miss visor. "I will never look at this man the same way again, and I am sorry I shook his hand," Hemmins wrote on Facebook later that day. "I am certain I will say something the next time I see him, and I am so upset about it all, I am tempted to drive back up there and talk to him today. As a survivor of sexual assault, I take his laughing at Trump mocking Dr. Ford very personally. I feel sick, and it's been an hour I have been thinking about it."
Then she decided to write him an email. "Jim, I cannot stop thinking about you sitting behind Donald Trump in Southaven, laughing at him mocking Dr. Ford. Read this," she said, linking to an essay she wrote in the Oxford American. It includes devastating recollections like this: "While in the hospital, I realized I was lucky, in a way, to have been shot. Everyone, men especially, could sympathize and identify with being shot — it was a physical injury that could be fixed."
Hemmins's email to Stephens continued, "You are laughing at me and my pain, when you laugh at her and her pain. I will never look at you again the same way. It breaks my heart that I live and work with people this heartless and cruel." Stephens replied to her email, Hemmins said. She said he "jumped straight to accusing me of just being partisan and being disgusted that he attended a Trump rally. It was terribly frustrating that I couldn't get him to understand my perspective at all. He still insisted he had nothing to apologize for and had done nothing wrong."
Asked for comment by the Cut, Stephens wrote, "After receiving Ms. Hemmins email, I sent her a long response.  I will only discuss my thoughts with Ms. Hemmins if she wishes to do so.  Please do not contact me anymore."
Was it worth confronting Stephens, I asked Hemmins? Did she feel any better? "Yes," she said. "At least I could stop thinking about it."