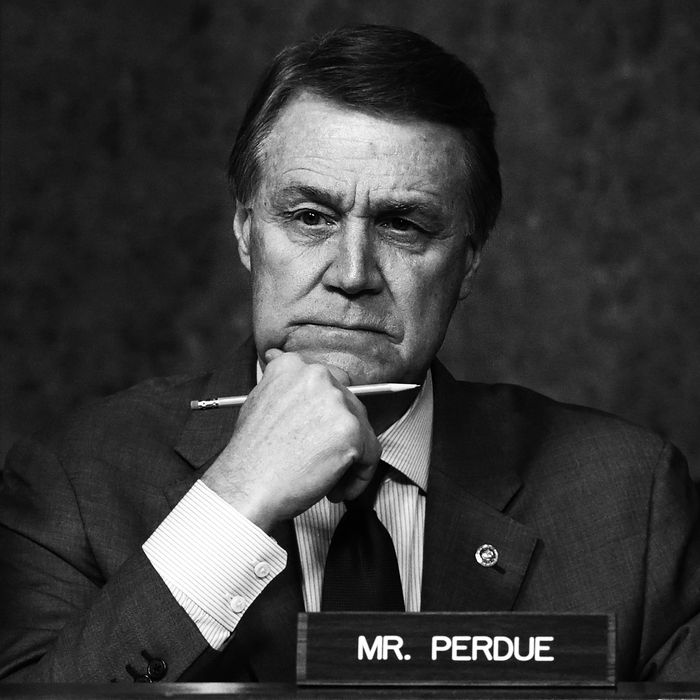 Senator David Perdue.
Photo: Alex Wong/Getty Images
Last week, two sexual-assault survivors confronted Republican senator and key Senate Judiciary Committee member Jeff Flake in an elevator, urging him to reconsider his decision to approve Brett Kavanaugh's confirmation as Supreme Court justice. Flake went on to change his position, delaying his vote until a weeklong FBI investigation is completed. Meanwhile, survivors have not quieted down.
On Monday, three women approached Republican senator David Perdue of Georgia at the Ronald Reagan National Airport in Washington, D.C., asking whether he would vote to approve Kavanaugh. One informed him she was a sexual-assault survivor; another asked him about the millions of women who have come out about their own experiences: "You don't feel like you have to answer any questions to people who have come out about their sexual assaults?"

The three women — sexual-assault survivors Patti Serrano and Jennifer Epps-Addison, of the Center for Popular Democracy advocacy group, along with Arizona State Representative Isela Blanc — also asked Perdue whether he supports a full FBI investigation into the allegations against Kavanaugh.
Perdue ignored the women, even pushing one — she can be heard saying "Don't push me" on the escalator — before literally dodging them to hide in the men's bathroom. When the survivors tried to introduce themselves and shake his hand, Perdue said, "Don't touch me."
"Senator, how can you not talk to women who have been assaulted?" Epps-Addison said while Perdue was in the bathroom. "How can you ignore our pleas? You have to exit at some point."
Blanc added, "You represent not just your state's choice, but every American in this country, and every person that is vulnerable. This is a legacy, and a moment in history that will not be forgotten."
Advocates also approached Senate Majority Leader Mitch McConnell at the airport. "How many stories of sexual violence do you need to hear in order to believe women?" Naina Khanna, the executive director of Positive Women's Network USA, asked him. McConnell ignored her and others, stopping to shake another man's hand before continuing forward and up an escalator. "Senator McConnell, do you always turn your back on women like this?" Khanna said.
When two sexual-assault survivors confronted Republican senator Bob Corker of Tennessee, he said, "I know this is enjoyable to y'all." "It is not enjoyable," Tracey Corder, the director of Racial Justice at the Center for Popular Democracy, responded. "It is not fun for us to tell our stories."