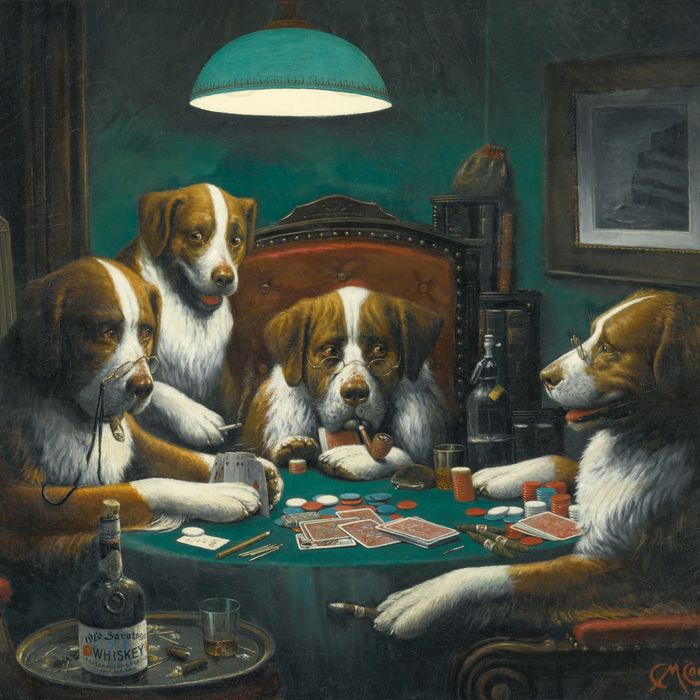 Photo: Cassius Marcellus Coolidge/Wikimedia Commons
If you're in the mood to look at beautiful art on a gloomy Monday morning, please click through this slideshow of some of the 45 paintings selected by the Obamas for the White House during Barack's term as president. There are colorful abstract Diebenkorns, witty Ruschas, and a handful of works that meditate on race and identity in America.
Trump, conversely, seems to have chosen to hang a bizarre painting of a fantastical version of himself, drinking at a table with past Republican presidents, in the White House. The painting, titled The Republican Club by Andy Thomas, was spotted in the background of a shot from his 60 Minutes interview Sunday night.
In the painting, a slimmed-down version of Trump, in his signature red tie, laughs alongside presidents Eisenhower and Nixon. He sits across from Abraham Lincoln, and is joined by Teddy Roosevelt, Gerald Ford, Ronald Reagan, and both Bushes. Meanwhile, a female figure looms in the background — "a subtle feminist message," according to the artist. "As I was doing the painting, I was thinking that these guys are kind of intimidating in a way," he wrote on his website, explaining the symbolism of the painting and its left-wing counterpart, "The Democratic Club," in which a group of past Democrat presidents play poker together. "That's the kind of woman that will be our first woman president; she'll walk right up to that table.
The work has been widely mocked by people who care about art, who called it tacky and reminiscent of the famous 1894 painting Dogs Playing Poker by Cassius Marcellus Coolidge.
But the artist himself is pleased with Trump's decision. Thomas told the Daily Beast that Republican Darrell Issa, a Representative of California, gave the painting to Trump, who then called the artist to compliment him. "He was very complimentary," Thomas said. "He made a comment that he'd seen a lot of paintings of himself and he rarely liked them." He added that he found Trump "hard to paint" due to his skin tone and smile, but tried to make him the focus of the painting. He emphasized that his presidential art is "bipartisan," and that he "challenge[s] people to look at the paintings and see if they can figure it out." Give us a moment while we decode the subtle feminist messages.
While The Republican Club may be kitschy, at least Trump is working to make the White House wall décor match the gold drapes and gold-hued upholstery that he installed in the Oval Office. And let's not forget that map of the 2016 electorate results hanging in the West Wing.