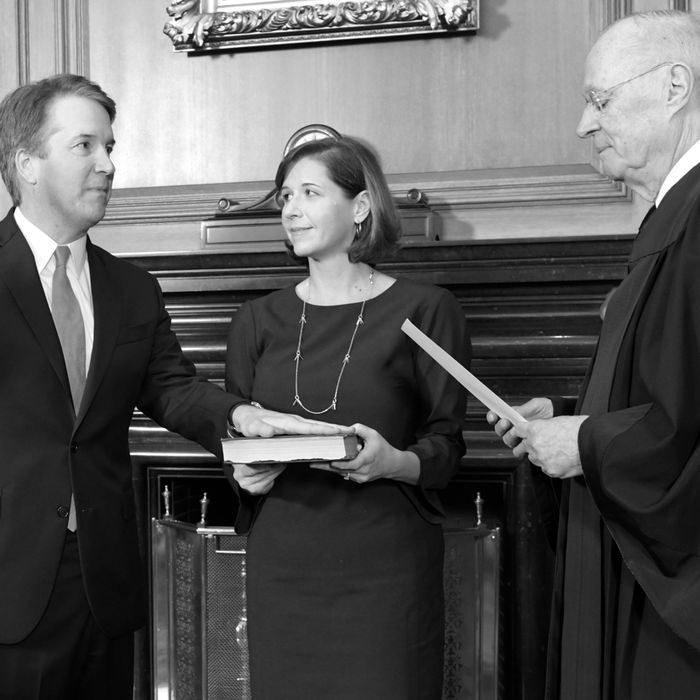 Brett Kavanaugh being sworn in to the Supreme Court.
Photo: Supreme Court of the United States/Getty Images
For many Republicans, confirming Brett Kavanaugh to the Supreme Court was a victory. Senate Majority Leader Mitch McConnell called it his proudest moment as a senator, President Trump bragged about the win on Twitter, and the hashtag #BeersForBrett lead had smug, unpleasant posts filled with pictures of India pale ales and Coors Light. Senator Lindsey Graham even posted this:
While unpleasant, these are all pretty standard behaviors for victors. What's less standard, and seems to be vindictive, is the call from lawyers across multiple conservative outlets for Brett Kavanaugh to sue his accusers for libel. One such lawyer wrote that Kavanaugh should sue Christine Blasey Ford and the Washington Post for $20 million each.
Another lawyer, L. Lin Wood, told Fox News that he believes Kavanaugh should sue not only Ford, Deborah Ramirez, and Julie Swetnick, but also news outlets that published the allegations.
"The message should be sent. People know there needs to be accountability," Wood said. "I think he has actionable cases [for libel]. I would recommend to him that they have merit."
The statement echoes the president's own comments about Kavanaugh's accusers. On Saturday night, he told Fox News that those who made up "fabrications" should be penalized.
"I think that they should be held liable. You can't go around and whether it's making up stories or making false statements about such an important position, you can't do that," Trump said to Fox News' Jeanine Pirro. "You can destroy somebody's life."
Supreme Court Justice Brett Kavanaugh has not commented on any potential litigation against the women who accused him of sexual assault and misconduct, and the news outlets that published their stories.