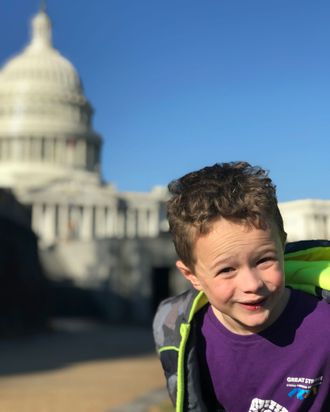 The author's son, Jack.
Photo: Tasha Nelson
I'm conservative on some things and less on others. A true swing voter, a moderate. A Republican was as likely to get my vote as a Democrat, depending on their voting history for issues important to me. In the past, I leaned more Republican than Democrat. Until last year, when the Affordable Care Act came under fire and I became terrified that my son might lose the health care vital to his survival.
My son Jack is 7. Jack is a soccer-playing Cub Scout with a passion for science. When he grows up, he wants to be a "Storm-Chaser who is a doctor that cures cancer." He spends time each day imagining new experiments to try with the science kit he received for his birthday. He also has the genetic disease cystic fibrosis. This disease is scary, profoundly expensive (just one of the 14 medications he needs to survive is $1,200 per month), and fatal.
When Jack was born the full protections for preexisting conditions provided by the ACA wasn't yet in place. When he contracted MRSA (a very serious infection), I used up all my vacation time and FMLA to care for him. I faced losing a job I'd held for ten years, knowing my son's disease made him largely uninsurable. I was terrified that if I lost my job, I'd also lose my son.
Fortunately, I was lucky. The CEO of the huge company I worked for had a heart. He learned of my dilemma and allowed me to work from home. What a relief that was!
To care for Jack, our family had to implement an "MRSA Eradication Protocol," which is a fancy way of saying we had to bleach, boil, or sterilize everything his toddler hands and body touched between every single use. We also had to increase his medication and physical therapy treatments from two to four times per day (each treatment takes one to two hours to complete). He was 3 years old and on 18 different medications, taking 38 pills per day, six nebulizer treatments, and multitudes of liquid oral medications. Our whole family had to bathe with surgical-grade sterilization soap and inject antibiotics in cream form into our sinuses.  His medical care alone took about 11 hours a day.
For three months, I worked from home and cared for Jack. I felt more secure, but still terrified. I'd experienced exactly how quickly my son could go from having what he needs to having nothing at all. It wasn't until the full protection of the ACA took effect in January of 2014 that I felt safe. For the first time since Jack was born, insurance companies couldn't discriminate against him by withholding coverage.
Others weren't as lucky as I was. Their CEO didn't save their job; their child was born, and died, before the ACA. In the history of health insurance in this country, those of us with preexisting conditions have only experienced four years of guaranteed coverage. We're already standing on the edge of losing it.
No candidate who voted yes on the tax bill that weakened that ACA or in favor of short-term "junk" insurance will get my vote. I am a #HealthCareVoter, and my son Jack is one of the #LittleLobbyists, a nonprofit organization that helps parents of and children with complex medical needs advocate for their health care needs. We live in Virginia, where Jennifer Wexton will get my vote over Representative Barbara Comstock, because Comstock has proven to me that she won't protect us. She has failed my son with her votes.
Many Republicans I've spoken with have argued that the Tillis Bill is the GOP's answer to protecting preexisting conditions. This is a half-truth, at best. While the bill does prevent insurance companies from excluding people with preexisting conditions altogether, it does NOT require insurers to provide coverage for their preexisting condition — or prevent their premiums from being far more expensive. This bill is a smokescreen designed to make people think the GOP has an interest in protecting preexisting conditions, while in reality it firmly and solidly returns us to the the days where insurance companies could freely discriminate for profit.
I used to be a swing voter who leaned Republican. But now that the Republican Party has reduced rare disease tax credits, is not protecting people with preexisting conditions, and moved (in my opinion) far too quickly on a decision about a lifetime Supreme Court Justice who could determine the future of health care in this country,  the GOP has single-handedly forced me to move steadily and solidly to the left. President Trump has said and tweeted repeatedly that Republicans will protect preexisting conditions. The truth is if the Republican Party weren't so effectively passing legislation dismantling the solid protections already in place, I wouldn't need to write this article. The only reason we are in a position to worry about protection at all is the Republican Party slowly and steadily attacking the existing protective pieces of the ACA by voting to remove them.
My family is working- and lower-middle-class, with a federal health-insurance plan. Between now and December we will work hard to pay all of our 2018 medical costs, because typically by February 1, 2019, we will owe $9,000 again.
We participate in grants and medication coupons to help us, but because of the new co-pay accumulators introduced this year (our insurance is one of them), which don't count coupons and grants toward our deductible or out-of-pocket max, we're likely going to owe even more next year. Meanwhile, the insurance company will receive our deductible twice — once from our coupons and grants, then again from us directly.
Earlier this month I started selling our things on Facebook to help cover our medical bills, which is normal for many families dealing with expensive illnesses. The types of things I've been selling include my children's toys, car seats, our countertop appliances — anything in our home that we might like to have but don't need for survival. I just sold a dainty gold necklace my parents bought me for my 13th birthday and my husband's high-school ring, which provided us with $240. Each time I sell an item I put that small amount of money toward one of the medical bills in our ever-looming stack. By the time I've sold enough to pay off this year's bills, our 2019 deductible will be due and I'll start all over again. This has all been somewhat shocking to many of my friends who reached out with offers of help and crowd-funding.
While the offers were sweet, we respectfully declined. Crowd-funding Jack's medical needs is not sustainable. Unless health care in our country changes, these expenses will continue to build for the duration of Jack's life. What my son truly needs are politicians who will commit to protecting access to health care — for him, and for everyone.
A version of this piece originally appeared on the blog for Little Lobbyists, an organization advocating for children with complex medical needs.