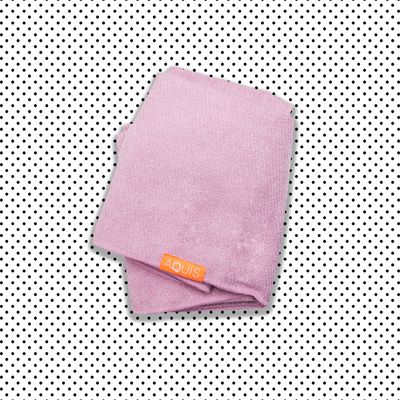 Photo: Courtesy of the Retailer
It sounds to be true: On Amazon there lives Aquis, a magical hair towel with thousands of great, five-star reviews. It makes your hair less frizzy and more smooth, reviewers say. It dries up to 50 percent faster, some claim. I can't live without it, I have multiples, other say. But is the myth of the magic hair towel real? To find out, we gave the hair towel to a variety of New York Magazine staffers with varying hair types. Here's their take on whether it lives up to the magic.
Allison P. Davis, Senior Culture Writer
I have a lot of hair, which seems like I'm bragging and I sort of am. But because God keeps us humble, thanks to its lushness, it takes an obscene amount of time to dry — two hours on a good day (when I blow dry it, I have to take breaks). When I let it air dry, it takes about half a day and requires advanced levels of product mixing. The Aquis hair towel promised to fix two of those issue for me. "I will cut drying time in half," it vowed. "I will make your curls frizz free."
I used it on a wash day when I was planning to wear my hair natural, not blown straight. I did my usual Co-wash, applied my curl-defining lotion with care, gently tucked it underneath the Aquis Hair Towel and went about my getting ready process. The pros: The towel has a handy button fastener so it holds my hair securely out of the way, like it's in a nice little cocoon. Also, it's very absorbent. My shirt stayed dry. I looked very glamorous swanning about my apartment in a hair towel that stayed perfectly in place. But the con: My natural hair looked insane after I took it out of its l'il cocoon. It did dry my hair faster — but maybe also dried it out. I would use this again for the convenience, but only if I was planning to wear my hair straight.
Sarah Spellings, Fashion Writer
I was excited to try this microfiber turban to see if it could actually cut down on drying time. I have a ton of super-fine hair which I normally I wrap up in a T-shirt (hairstylists claim that it's more absorbent and less frizz-causing than a towel), and let air dry. It takes about 3.5 hours. I was excited to get that down to an alleged hour and 45 minutes.
My experiment started off a bit rocky — I couldn't figure out how to tie it up properly and ended up with a very not-Instagrammable, sloppy towel-turban. But then I left it in, applied Moroccanoil treatment, brushed it, and let it do its thing. My hair did look great afterward. It looked perfectly beachy-wavy, not frizzy but also not flat. I don't think it cut my drying time in half, but it cut it by about 33 percent. That's worth it for me!
Lisa Ryan, Senior Writer
My hair is pretty fine (as in thin), but there's a lot of it, and it's a mash-up of loose curls and waves. It generally doesn't take too long to dry, but it does get extremely frizzy with lots of flyaways at the top.
I only ever do my hair last minute when I need to run out the door. I'd say the Aquis hair towel works, but I don't think it's that revolutionary or has changed my life forever. My hair definitely dried faster than if I had used my wet body towel on my hair (which I usually do — is that gross?). I'm not sure about the frizziness, though. My hair looked and felt kind of normal.
In general, I'd recommend this in terms of convenience. It's just nice and easy to have your hair wrapped up in a specially designed fabric loop, as opposed to a large towel. It definitely made my hectic morning easier.
Dora Fung, Fashion Director
I have long, thick Asian hair. Unless the weather hits below 50 degrees, I air-dry my hair and it usually takes my hair around 3 hours or more. With dripping wet hair, I wrapped it up as per the instruction – like a baby. I left it swaddled for 30 minutes and the towel did soak up a lot of the excess water. Had I used a normal towel, the towel and my hair would still be soaking wet, so I suppose it works.
Tara Abell, Vulture News Editor
I have the type of curly hair that the beauty industry describes as 3A: big, thick, loose curls that are pretty frizzy. I've been looking for de-frizzing solutions since back when the smell of Aussie hair products was cool. I've tried every microfiber towel out there, and this baby delivers!
I love the tight elastic edge of the towel; it ensures that it won't slip off your head as you try to work or cook. The button-back clasp is genius. Towel turbans unravel on me all the time while I'm typing at my laptop or trying to boil quinoa, and this keeps the wet hair securely away from my neck. After I took off the towel, my hair was much drier than usual and the towel itself was soaked — wet like a beach towel after a dip in the ocean.
I will say it left my hair a little flatter than I normally like, and I had much less volume than I would get from air-drying or diffusing. But for the benefits of having no dripping, no wet neck, and no damp shirt, this thing was a real lifesaver for me.
If you buy something through our links, New York may earn an affiliate commission.