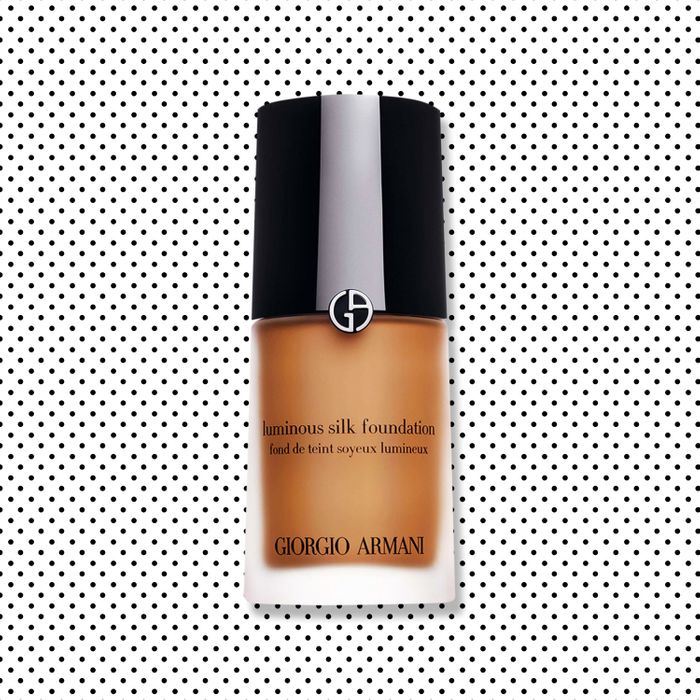 Photo: Courtesy of the Retailer
For many years, Giorgio Armani's Luminous Silk Foundation was the Meryl Streep of foundations: It swept all the beauty awards. In recent years, tinted moisturizer and newer formulations have stolen its spotlight, but the foundation remains a favorite: Meghan Markle has raved about it, and makeup artists use it for TV and red-carpet appearances because of its glowy-yet-natural-looking coverage.
Armani originally created the foundation to mimic the smoothness of silk, but the company gently tweaked the formula a few years ago. The brand also recently added six new shades to its range, bringing up the total to 31, so the Cut decided it was time to revisit this classic. Is it worth the hype (and the $51)? Here's what six staff members think after giving it a try.
Allison P. Davis, Senior Culture Writer
I have pretty uneven skin tone and some hyperpigmentation in clusters, but I'm too lazy to figure out which acids will clear that up. Therefore I rely on cover-up to fake the skin of a person who sticks to a skin-care regimen, or who never needed one to begin with. I hate foundation because no matter what, I can feel it on my skin. It always rubs off on my white T-shirts, and by the end of the day, my face feels like I rubbed a slice of pepperoni pizza on it. I thought I could just get away with tinted moisturizer, but that is a lie they tell you in middle school. For awhile, I'd opted for BB cream because it seemed lighter, younger, easier — but like, what is BB cream even?
Anyway, the Giorgio Armani foundation (I wear shade 11) has taught me how to trust foundations again. It covers what it needs to cover, but lets my more fun imperfections (freckles that are probably sun damage!) show. When I wear it, my skin looks like I actually do drink all the water I tell people I do. My skin looks glowy and feels soft, never oily. Well, it does get a bit oily, but only because I can't stop gently stroking my own flawless cheek.
Kelly Conaboy, Writer-at-Large
This foundation is great (I'm wearing shde 3.75). I'm sort of new to wearing any sort of full-face coverage, because I was always worried I would look like a haunted doll. Previous to this, I used Glossier's Perfecting Skin Tint because it seemed close enough to nothing. This is also lightweight, but more buildable, and, like the name will tell you, far more luminous. I've tried putting it on with my fingers, with a Beauty Blender, and with a wedge, and it was easy with all of them. It spread nicely, made my skin look even but not cakey, and added a healthy-looking sheen to my deathly pale facade.
It lasts long enough for me, but I wouldn't describe it as particularly heavy-duty, if you are something like a newscaster or game-show host. For a normal person I think it'll last throughout the day well enough.
Kathleen Hou, Beauty Director
Before I became a beauty editor, I had the kind of job where I spent all day in windowless conference rooms in the Midwest, balancing giant binders on my lap and becoming sort of good at Excel. I also used to wake up early every day to apply this foundation all over my face. Looking into the poorly lit bathroom mirrors at my client site, my one glimmer was the glow from this foundation, which lasted through ten-plus hours. Maybe I was unhappy, but at least my skin looked good.
I'm happy to say that this foundation is still as good as I remembered — and with the new formula, it's smoother and lighter than it was before. One layer makes my face look pretty much perfect, but not flat or like it's been coated in plaster. It's definitely a luxury foundation, and you can tell: it feels like nothing and blends in with no stickiness. It glides so easily into the skin that you don't need very much technique to apply it. I just use my inexpert fingers to apply it and make my face look less shadowed and more alive.
Erica Smith, Beauty Writer
Full disclosure: I don't wear foundation. I don't like the feeling of a lot of stuff on my face and I am also lazy. So, I don't have much to compare this to, but I didn't hate it! The formula (I'm wearing shade 8.5) feels very soft and velvety and it seemed to really absorb into my skin upon application (instead of sitting on top of it, my biggest fear).
I also noticed a slight blurring effect and a subtle glow when I checked in on my face throughout the day, which was nice. I'll probably continue living my tinted-moisturizer life because it makes me feel more free, but I wouldn't completely mind calling this foundation in for backup in times of need (e.g. weddings, other events with dress codes, really close-up selfies like this for work).
Diana Tsui, Senior Fashion Market Editor
I have one big question when it comes to choosing foundation: How does it interact with my eyeliner? The combination of moisturizer, sunscreen, and foundation can cause even the most long lasting of liners to smudge on my monolids. Conversely, I also want a dewy finish so it's a big ask — and Armani's formulation is pretty close to perfect. I tried the 6.5, pumped a few drops onto the back of my hand, and applied with a damp Beauty Blender.
It blended in seamlessly and didn't sink into the two tiny expression lines I can feel forming on my forehead. My skin looked fresh and glowing, as if I were on permanent vacation. And, yes, at the end of the day, my liner had not budged. Could this be my perfect foundation? It's pretty damn close.
Sarah Spellings, Fashion Writer
I rarely ever wear foundation, so I was surprised by how much I liked this one (I tried out a 4.5). It didn't feel too heavy or look cakey at all. I don't know if it made my skin more luminous, but it definitely seemed more even. It lasts pretty much all day. I wore it during a workout and it still stayed on for about 4 hours afterward. And compared with my usual drugstore BB Cream in terms of coverage, feel, and wear-time, it's definitely a step up — or about a hundred steps up, actually.
If you buy something through our links, New York may earn an affiliate commission.