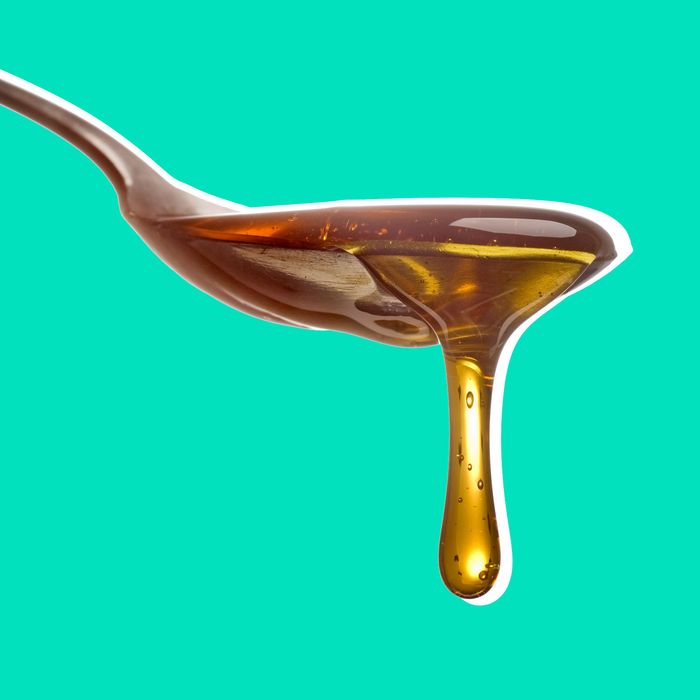 High-fructose corn syrup.
Photo: stockcam/Getty Images
When we were in high school, my friend Lucy told us that every day after school, her mother would make her a thick, tall smoothie out of high-fructose corn syrup. "What?" we said. She was kidding, and we laughed, although to this day I still can't really say what high-fructose corn syrup is, or how it's made. I know I've Googled, but it doesn't stick.
Nutrition writer and NYU professor Marion Nestle's lively and depressing new book Unsavory Truth: How Food Companies Skew the Science of What We Eat [out this week] makes me question various things I think I understand about healthy eating, as well as the ways I come across them. Is the information I base my own diet on objectively true? Did I read the fine print? Do I unwittingly parrot advertisements dressed up as science? (Is science science??)
The book also made me think of the unsolicited gifts and packages that I've gotten from brands so far here at the Cut. Supplement powders, unusual drinks, nasal spray … I don't always want them, but they're fun to open and a little painful to throw away, so I've been putting a lot of them into the backs of drawers instead, where I can kind of feel them weighing on me.
As Nestle points out, even the smallest gifts can affect the choices we make. In the pharmaceutical industry, for instance, "the link between drug-industry gifts and prescription practices is so firmly established that it is considered beyond debate."
But the links and conflicts of interest between the food industry and the world of nutrition professionals are, in Nestle's telling, perhaps even wilder and more egregiously tangled. Because while drug companies are now required to disclose payments made to physicians, Nestle writes, "nothing close to that level of concern, scrutiny, or action applies to food-company efforts to engage nutrition professionals."
For example:
Late in 2017, the Journal of the American Heart Association published the results of a clinical trial concluding that incorporating dark chocolate and almonds in your diet may reduce your risk of coronary heart disease. I love that. But can you guess who paid for this study? The Hershey Company and the Almond Board of California were its funders. They also paid seven of the nine authors for their participation; the other two were employees of the funders.




But what if the findings of such studies are true? If exercise, chocolate, and almonds are good for health, what is wrong with funding research to prove it? This is a serious question that deserves a serious answer. Hence: this book.
The book goes on to outline various offenders and offenses in entertaining detail. Coke is the devil, POM is, too. The egg industry might also be, or was it dairy? I think Big Pecan is all right, but not Big Macadamia. (I'm joking, mostly.) Not even wild Maine blueberries escape the stain of contamination.
One chart toward the end of the book made me wonder if my whole preferred diet isn't the result of marketing — companies behind avocados, blueberries, eggs, rice, salmon, and walnuts, for instance, all sponsored various studies addressing those foods' healthfulness.
As Nestle cast doubt on scientists, dieticians, universities, journals, journalists, food-packaging labels, advisory committees, and the government, I found myself wondering whose nutrition advice she thought was worth trusting. It's a common enough question that Nestle includes it in the FAQ section of her website, FoodPolitics.com. "Whose nutrition advice can I trust?" Her response: "I'm always tempted to answer this question with 'mine, of course.'" Fair enough; it seems good. In the book she reveals her own eating habits: "I practice what I preach: a largely but not exclusively plant-based diet that occasionally includes junk foods and often includes sweets – in moderation, of course." On her site, she encourages "healthy skepticism" as well as "plain common sense," and she endorses Michael Pollan's rule — "Eat food, not too much, mostly plants" — in the book's opening chapter, before going on to say: "Advice like this, alas, does not sell food products. Influencing nutrition professionals does."
She ends with a call to action: new policies, increased government funding of basic research, new integrity-protecting standards. "As readers," she writes, "we need journalists who cover nutrition, food, and agriculture research to report who paid for the studies, their own conflicts, and the conflicts among the experts they quote." She also urges people to vote, to read labels, and to contact companies with any concerns. "The label of every American food product provides contact information," she writes, "making it easy for you to let the company know your thoughts. Hold food companies accountable. Pick up the phone."
And now if you'll excuse me it's time for my afternoon high-fructose corn syrup shake. I still don't understand this joke, or the syrup itself, but I think that was the point.