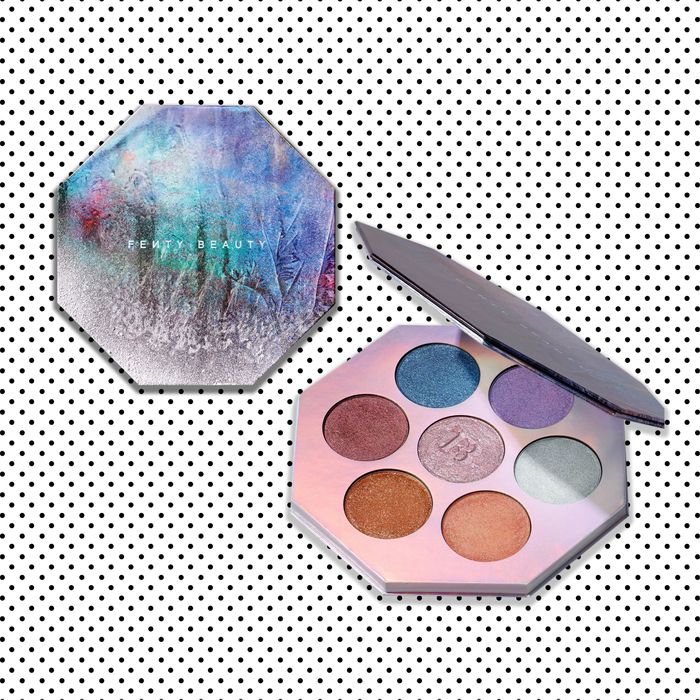 The Killawatt Foil Palette.
Photo: Courtesy of Fenty Beauty
Rihanna is dropping so many new Fenty products these days that it's dizzying to keep up with her. ("Dizzying" sounds like a great name for a new Fenty highlighter, doesn't it?) Last week was #STUNNAWEEK, during which Fenty launched four new Stunna Lip Paint shades: chocolate brown "Unveil," rosy mauve "Uncuffed," peachy nude "Unbutton," and smooth black "Uninvited." After a week like that, you might be tempted to take a break — but not if you're Rihanna.
Last night she made a special appearance in Sydney and showed everyone the first new product from her holiday #CHILLOWT collection. The Killawatt Foil Palette features seven brand-new frosted metallic highlighter shades in a cool iridescent octagonal palette. You can watch models from various skin tones swatch the highlighters on the Fenty Instagram page:
The holidays are still a little ways away, but the full CHILLOWT collection will be available on October 12. We definitely can't wait to see what else this new collection holds. But Rihanna, we hope you take a well-deserved holiday break and CHILLOWT, for your sake, our sake … and our wallet's sake. Fenty whiplash is starting to become a thing.