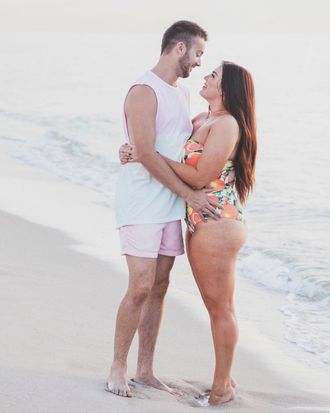 Robbie Tripp and "curvy" wife.
Photo: @tripp/Instagram
Just over a year ago, Robbie Tripp bravely admitted in an Instagram post that he was attracted to his beautiful wife and her "curvy body." Since then, he's posted more pictures of himself and his wife, some where he's doing a thumbs up by her butt, and others where he's looking at her butt, and some where he's grabbing her butt. Also, he's written a book called Create Rebellion, which is a "an avant-garde stream of consciousness that seeks to inspire creative minds to listen to their inner desires to create, to be disruptive with their creations, and to disregard those who don't see the beauty of their inspired vision." His latest creative rebellion? According to Buzzfeed News, it's threatening to sue the website Babe.net for comparing his book to the Unabomber's manifesto. Disruptive!
The article in question, Harry Shukman's "Bet you can't tell the difference between the Curvy Wife Guy's book and the Unabomber manifesto," calls Create Rebellion "a totally incomprehensible rant, an impenetrable and frightening pamphlet that rails against his enemies and praises his own superior talent." Shukman then shares two extracts, one from Tripp, and one from Ted Kaczynski, and invites readers to see if they can guess who wrote which. (Full disclosure: I guessed wrong!)
Tripp did not love this comparison, or the fact that the article published pictures of several pages of his book, and contacted the editors of Babe.net to say that he had spoken to his lawyer, and that their story violated copyright, and that this, along with Shukman's other articles about Tripp, "exhibited a pattern of targeted harassment of me and my reputation."
"The overall tone and intent of the aforementioned articles serve no purpose other than to effectively defame me to the public at large," he wrote.
In a statement to Buzzfeed, Babe.net responded: "Congress shall make no law preventing the trashing of a dumb book, or prohibiting the free shading thereof; or abridging the freedom of speech, or of the press; or the right of babe dot net to peaceably critique 'abstract manifestos for disruptive creativity' written by an Insta-famous weirdo obsessed with talking about his wife's thiiiiccness."
Buzzfeed also reached out to Tripp, who said that the website's "obsession" with him is "deplorable," and that "I'll never understand that type of negative energy and I'll continue to stay positive!"
As a teenager, I was often teased by my friends for attraction to D-list celebrity lawsuits, ones that were niche and inconsequential, ones that the average (fulfilled) person might refer to as "dumb." But I love this developing story and its curvy lawsuit, and we will continue to update it as we learn more.