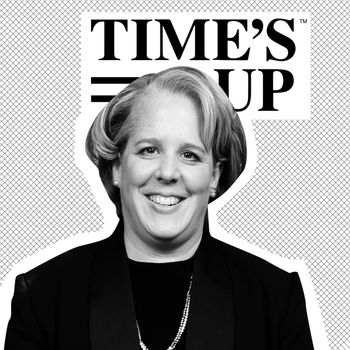 Roberta Kaplan.
Photo: Getty Images, Timesupnow.com
On Tuesday morning, celebrated attorney and co-founder of the Time's Up Legal Defense Fund Robbie Kaplan filed standard paperwork to represent Moira Donegan, the writer and creator of the Shitty Media Men list who is being sued by New Orleans-based writer Stephen Elliott over his inclusion on the spreadsheet.
On October 10, Elliott filed a lawsuit against Donegan at the United States District Court for the Eastern District of New York, claiming that Donegan's crowdsourced list was libelous and had caused him emotional distress. In exchange, he is seeking at least $1.5 million in damages.
Kaplan, who most recently successfully argued against a libel suit by accused sexual abuser Brett Ratner, not only has experience arguing for a woman's right to speak up — she's also familiar with Elliott's lawyer, Andrew T. Miltenberg, whom she's gone up against a number of times. (Kaplan also represented Edie Windsor in the landmark Supreme Court case United States v. Windsor, which struck down the Defense of Marriage Act.)
In a statement to the Cut, Kaplan said that Elliott's lawsuit is an obvious attempt to intimidate other women against speaking out. But given New York's strict protective standards for free speech, she doesn't expect Elliott's case to have much success.
"Given the fact that (1) the case against Ms. Donegan is extremely weak both factually and legally; (2) our client is a freelance writer who obviously doesn't have the resources to satisfy any monetary judgment; and (3) the case was filed in New York, a state with perhaps the most protective standard for free speech in the nation, it seems pretty clear to us that the whole point of the lawsuit is to intimidate other women against speaking out in a similar manner in the future," Kaplan told the Cut. "But the problem for Messrs. Elliott and Miltenberg is that the constitutional and common law of New York frowns quite heavily on cases like this that intend to chill free speech."