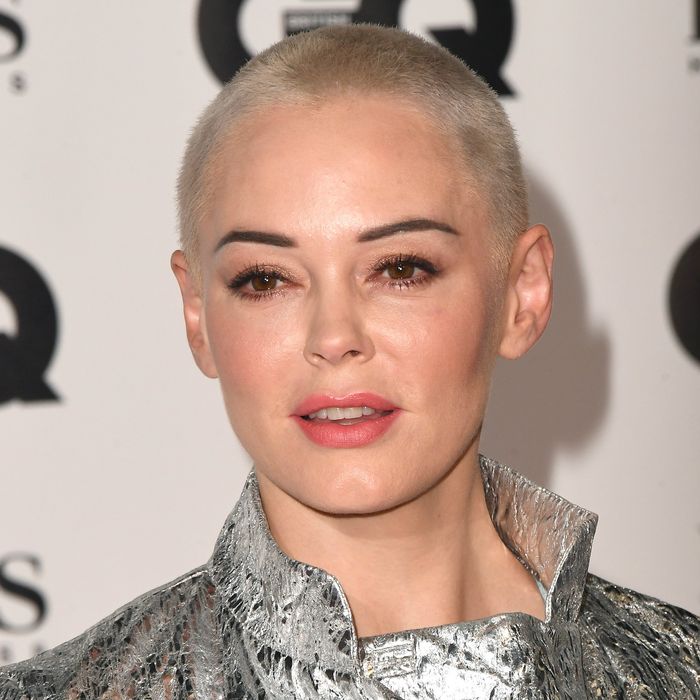 Rose McGowan.
Photo: Stuart C. Wilson/Getty Images
Rose McGowan was one of the first women to come forward with allegations against Harvey Weinstein. Now, a full year since the tidal wave of sexual misconduct claims began against the disgraced producer, kicking off the #MeToo and Time's Up movements, McGowan is extremely pissed. According to her interview in London's Sunday Times, the actress is pretty sure Hollywood is just paying lip service to the so-called sea change against sexual harassment and assault, and she is not afraid to rage.
"I just think they're douchebags. They're not champions. I just think they're losers. I don't like them. How do I explain the fact that I got a GQ Man of the Year award and no women's magazines and no women's organizations have supported me?" she tells the Times, noting that she has not been invited to any number of #MeToo functions. "And I don't want to go, because it's all bullshit. It's a lie. It's a Band-Aid lie to make them feel better. I know these people, I know they're lily-livered, and as long as it looks good on the surface, to them, that's enough."
And while the Charmed actress is not a Trump supporter herself, she thinks the president's fans are largely right in their assessment of the entertainment industry: "[T]hey hate Hollywood for being faux liberals — and they're 100 percent right about that. It's a bunch of faux liberals. It's crap, and they know it is deep down, but they're living an empty life, and to me that's their punishment. They get to live the lives they live."
McGowan later goes on to accuse Meryl Streep and Hillary Clinton of failing to act on their (alleged) knowledge of Weinstein's history of misconduct, declaring it "impossible" they wouldn't have known, despite both women's claims to the contrary. "I would take my years of support back," she adds of Clinton. "Vociferous support. Even against Obama, I backed her."
If McGowan's anger at her less-committed compatriots isolates some, well, it's nonetheless an emotion that has served her well over the past 12 months. "Tell me, who's been more effective at getting us to this point?" she concludes. "So playing nice for women hasn't got us very far." Oh, and if she runs for office, McGowan declares, she'll run as Republican. "Just to fuck it up. Just to blow people's minds." On Sunday evening, she posted a clarifying tweet, just in case you missed any of her meaning.