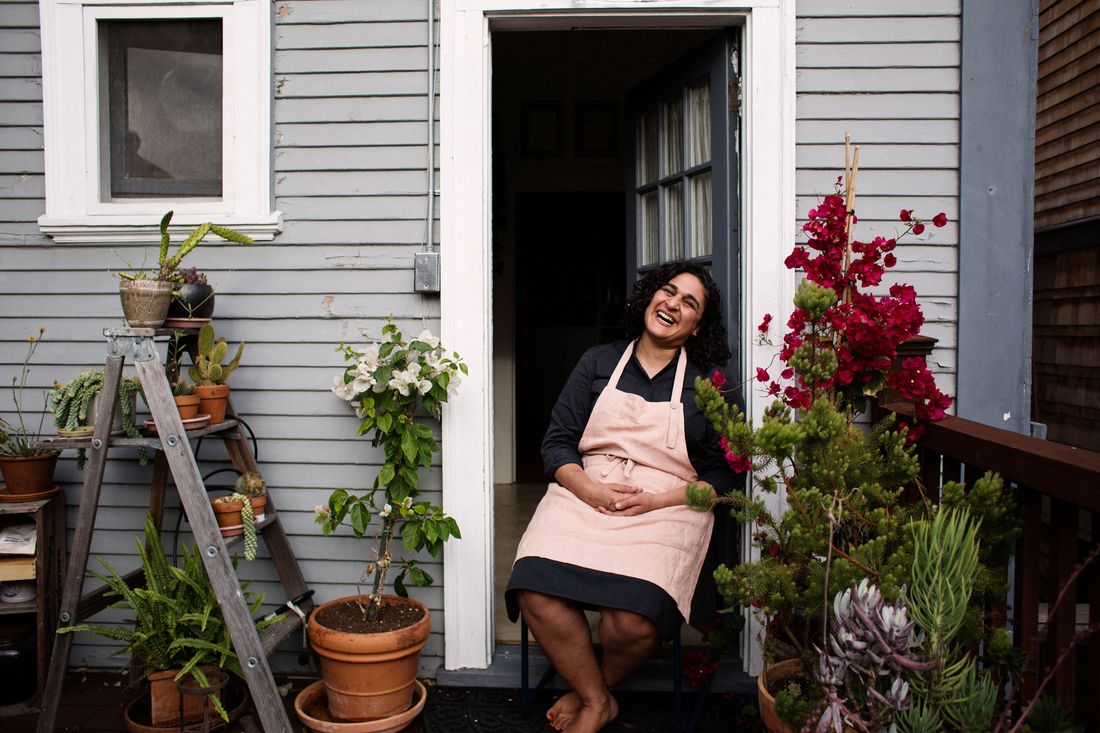 According to a vast amount of TV shows and books and magazines and blogs, the Domestic Goddess calmly rules her sphere from an airy, well-appointed kitchen. She's an Ina Garten or a Martha Stewart, a soft-lit, ethereal figure who seems to float just above our plane of existence, no longer tethered to Earth by dreary, quotidian concerns like insufficient entertaining space, emotions, or a limited budget for artisanal jams. She's been, for the most part, white, linen-clad, Hamptons-based.
Enter Samin Nosrat, the 38-year-old Iranian-American chef, teacher, cook-book author, and now, TV host, who is not based in the Hamptons, has a big, booming laugh, and still faces some seating constraints.
"One of my sadnesses is that I don't have a dining table," Nosrat tells me at her apartment in Berkeley. She has a little folding table that fits six or eight people, but any more than that and her guests end up sitting on the couch or the floor.
Though she may not have a dining table, as of this week, Nosrat does have a giant billboard in Times Square with her face on it. With her new Netflix docuseries Salt, Fat, Acid, Heat (out October 11) — which is based on her 2017 best-selling, James Beard–award winning cookbook of the same name — Nosrat seems poised to join the ranks of domestic goddesses like Garten and Stewart. But unlike her predecessors, Nosrat seems firmly planted in the same clunky reality as the rest of us.
In the era of social media, when everyone from the biggest celebrity on down is trying to create a tidy, digestible narrative for themselves and their audience, Nosrat is refreshingly upfront about the messiness and occasional contradictions of her own life. She doesn't like today's aspirational food culture — the carefully staged, meticulously lit Instagrams of gorgeous, elaborate dishes that no one ends up eating. But she also knows, in some ways, she's a part of it. After all, she too is drawn to bright, shiny things, like this fancy enamelware from Denmark, and these new knives she was gifted, and she doesn't normally wear a dress when she cooks, but she did today, because she knew she would be photographed.
With her new show, Nosrat aimed to strike a balance between aspirational and accessible. Just like her book, it's divided into four parts, one for each of what she considers to be the essential elements of cooking: salt, fat, acid, and heat. The four-part series is a blend of travel, food, and cooking shows, with each episode based in a different country ("Salt" is in Japan, "Fat" is in Italy, "Acid" is in Mexico, and "Heat" is in in the U.S., in Berkeley). It's more cinematic than a regular cooking show, but it also has more practical information and cooking tips than the typical food or travel show.
"I've always wondered, why are the beautiful things only for the fancy stuff? Why can't regular stuff be beautiful too? Everyone deserves that."
When I arrive at her apartment on a warm, sunny September afternoon, Nosrat has just returned from a trip to New York. She's been traveling all summer, promoting the show, writing her cooking column for The New York Times Magazine, doing press event after press event, and, as she told her therapist this morning, it's all been wonderful and magical and she wants to feel present and appreciate it, but instead she feels anxious and harried. She also feels like having a BLT. So we're making one, if that sounds good to me, and a Cobb salad, and do I need an apron? Some water?
"Often I'll have this amazing tomato experience that I can live off for the rest of the year," she explains, citing the fruit as an essential ingredient to a proper summer.
We begin assembling the various components of our meal. Nosrat boils eggs and bakes thick slabs of bacon, and I use an old food mill to smash up the tomatoes, so we can use their juice for a vinaigrette. Making a vinaigrette, she says, will help me practice tasting and adjusting and balancing the salt, fat, and acid until I get the flavor I like.
I finish the smashing, spraying bits of tomato across her pristine, white walls in the process. "Don't be sorry, it's okay!" Nosrat assures me, reaching behind the oven to wipe off a big, sneaky smear before we taste the juice. It's sweet, and a little earthy. Garlic would be nice, Nosrat says. She crushes a clove of garlic with the heel of her palm, drops it in, and we taste again. She adds oil, and we taste again. Some red-wine vinegar, taste, salt, taste, more vinegar, taste. We advance like this, bit by bit, our adjustments getting smaller and smaller as we zero in on our target, a pair of exceedingly slow epicurean cruise missiles.
She suggests we try the vinaigrette on one of the boiled eggs. We do, and find it's still missing something. Tentatively, I suggest salt. Her nose scrunches up, and I know that's the wrong answer. Nosrat's face registers every single one of her thoughts, its topography rearranging itself with every joke, question, memory. It makes her ridiculously watchable. Some of the best parts of her show are her reactions — her unbridled delight as she tastes fresh-made Parmesan, her tears of joy in a soy-sauce factory. But it also makes her a terrible actress. So much so that, in the hopes of securing Nosrat's authentic reactions, the crew took to sequestering her from the people she'd be filming with until the last possible second.
"There's a way, when it's right, my mouth goes …" Nosrat points at her face. Her eyebrows leap up, two startled, black boomerangs just below her hairline. Her eyes open big and wide like an old-timey cartoon character who realizes she's about to plunge off a cliff, and her mouth constricts into a tiny pucker.
She needs a tang. A jolt. Something. And this vinaigrette isn't doing that yet. She adds vinegar. It's getting there …
Finally, she nods. "It needs a lot of salt."
I beam with the light of a thousand summer suns.
Until recently, most of the significant moments in Nosrat's career happened within a couple of miles of where we're standing. She was a sophomore at U.C. Berkeley when she and her boyfriend at the time saved up for almost a year to go to Chez Panisse, chef Alice Waters's renowned restaurant that was at the forefront of the local, organic food movement when it first opened in 1971. The experience was so transformative for Nosrat that she wrote a letter asking if she could work there, hand-delivered it, and started working as a busser the next day.
Over the next few years, she rose through the ranks, eventually becoming a cook, before going on to take apprenticeships in Italy, and working as sous-chef at the now-defunct Berkeley restaurant Eccolo. It was working in restaurants, and watching how cooks described and developed dishes — not by following recipes, but by tasting and making adjustments and tasting some more, feeling their way toward the end result — that she realized the success of a dish depended on the manipulation of four elements: salt, fat, acid, and heat. When she shared her epiphany with one of her colleagues, he looked at her like she had just declared water to be wet. Still, she knew it wasn't obvious to people outside a professional kitchen. So she set out to tell them.
She began teaching cooking classes, and pursued her passion for writing — studying under author and journalist Michael Pollan, who would go on to enlist her as his personal cooking teacher, and encourage her to write her own book. In 2015, he also included Nosrat on his own Netflix show, Cook, where she first met Caroline Suh, the director of Salt, Fat, Acid, Heat. ("Caroline and I really hit it off," Nosrat recalls. "And she just looked at me and she was like, 'You're gonna have your own show one day.'")
A few years into her career, food as the subject stopped being her primary focus. Instead, it became a way for her to tell stories, and to bring people together and uplift them.
"I think a lot about why I became this, and I think a big part of it is that I have always felt like an outsider," she says, leaning against her counter. "I have always felt like I don't totally belong, and I'm very aware, always, of the person in the room who's like, 'I don't fully get it.' And I just want everyone to feel included, and I want everyone to get it so everyone feels like they can do anything."
Some of this emphasis on belonging, she says, comes from her background. Nosrat's parents came to the U.S. from Iran in 1976, three years before she was born. She grew up in a predominantly white community in San Diego ("What I wouldn't have given as a little kid to see someone who looked like me on TV"), and between that, and then going to U.C. Berkeley, and working in Italy, she quickly learned to be a chameleon, watching and learning and adapting herself to any situation.
"I'm the kind of person who can go anywhere and there are people who're like, come to our house for Thanksgiving."
When it came time to make her own show, Nosrat wanted to create something beautiful that would inspire people to get in their kitchens and cook for themselves. Salt, Fat, Acid, Heat has the lush, majestic look of Netflix's Chef's Table, but it's injected with more information about the history and cultural significance of various foods and preparations, as well as tips for how to use them in your own home.
"I get that everyone's not going to get to go to the soy-sauce factory," she says, referencing the facility she visits in the "Salt" episode. "And probably everyone won't buy the little $9 bottle of soy sauce. Although it's highly worth it, it's so special and amazing. But if I can share some joy, like some piece of human experience, some sort of way that look, those people, they're not that different. Or look, this thing relates to some experience that I have. If that is something that I can give you and make it feel like it could belong to you too, then that's all I wanna do, you know?"
Our BLT is, of course, beautiful. After we finish perfecting the vinaigrette, we make fresh mayonnaise with yolks and oil, some lemon juice, salt, and garlic. Nosrat pulls out an enormous slab of fresh herb focaccia, and cuts it in half, slathering our mayonnaise across the soft, springy interior of each side. Then she carefully arranges a trellis of crispy bacon on one half, tops it with slices of avocado, tomatoes, and fresh lettuce dressed in our vinaigrette. She presses on the second slice of bread, and then we let it sit in its own juices while we assemble the Cobb salad.
When everything's ready, and the sandwich has been cut up, and the salad doled out onto plates, we eat out in the sun on Nosrat's porch. I take a bite of my BLT, which is the size of a small dog, and in ecstasy, emit an alarming, guttural sound that Nosrat graciously does not comment on. The mayonnaise and vinaigrette have soaked into the focaccia, but the bacon is still crispy. The bite of the garlic and vinaigrette slices through the creamy, fattiness of the avocado. We inhale our sandwiches, and then fill up further on the Cobb salad, which is essentially a deconstructed BLT. At one point, Nosrat leans over and gently wipes a glob of mayonnaise off of my nose. This, Nosrat says, is her "tomato moment" of the summer, the moment that will hopefully sustain her through the rest of the year. She's sad it's taken her this long to have it.
"My whole message is, sit down with your friend or your family for dinner and one by one, one table at a time, that will make the world a better place, right?" she says, but acknowledges she's been too busy lately to do this. "I'm such a hypocrite — I'm not even doing my own thing. I feel like I need to take my own advice sometimes."
When we're finished, Nosrat and I shuttle the plates and cups and empty LaCroix cans back into her kitchen, which is covered in the detritus of our sandwich-making. Puddles of tomato juice stretch across her cutting board, the mayonnaise has developed a dark, plastic-like film, and towers of dirty dishes rise precariously from her sink. I ask Nosrat if I can help tidy up and she says no, no, no, it's fine. Then she rolls up her sleeves, turns on the water, and grabs a plate. Nosrat has a show and a book and a column and a billboard, but she doesn't have a dishwasher.