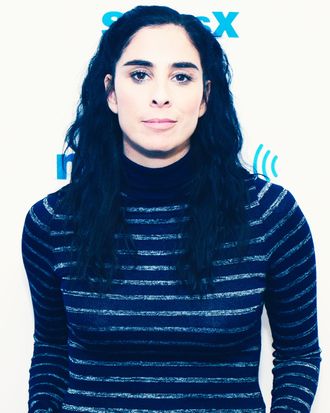 Sarah Silverman.
Photo: Santiago Felipe/Getty Images
Sarah Silverman recently told Howard Stern that she used to allow Louis C.K. to masturbate in front of her — which she acknowledged was "not analogous to the other women who are talking about what he did to him" — and said she'd like to see him perform again. Her comments immediately drew a response from comedian Rebecca Corry, one of several women who have accused Louis C.K. of sexual misconduct, saying that he is "a predator who victimized women for decades and lied about it." Silverman, in turn, apologized for her remarks directly to Corry on Twitter.
In her Monday interview with Howard Stern, Silverman said, "Listen, I don't know if I'm going to regret saying this, but I've known Louis forever. I'm not making excuses for him — please don't take this that way. But, you know, we are peers, we are equals. When we were kids, and he used to ask if he could masturbate in front of me, sometimes I'd go, 'Fuck yeah I want to see that!'" She also said the situation was different from the misconduct C.K. has openly admitted to, because it was consensual and because she feels there was less of a power differential: "He could offer me nothing," she said. "We were only just friends."
She went on to say that she "loves" him and called Louis C.K. her "brother." She also told Stern, "But you know, I believe he has remorse, I believe he can come back, I just want him to talk about it onstage. But comics don't like to be told what to do, so he's just gonna have to find his way or not find his way and people are gonna watch him or not watch him."
After Silverman's comments began to circulate online, Corry tweeted, in part, "To be real clear, C.K. had 'nothing to offer me' as I too was his equal on the set the day he decided to sexually harass me."
Silverman then apologized in response. "Rebecca I'm sorry. Ugh this is why I don't like weighing in," she wrote on Twitter, in part. She went on to say that she "can't seem to do press" for her show without being asked about it.
However, Corry told Silverman that she also can't seem to escape what Louis C.K. did to her — but in Corry's instance, this comes in the form of rape and death threats, and repeated harassment. "I'm sorry your friend created this situation," she wrote. "We deserve to do our art without having to deal with this shit."
After apologizing, Silverman tweeted her thanks to comedian Morgan Murphy, who had written that Silverman is "a good human & ally who was asked about her life (re: a subject female comedians can't seem to avoid in interviews) & she answered honestly if imperfectly & the whole thing was reduced on social media to the sentence you would hate the most."