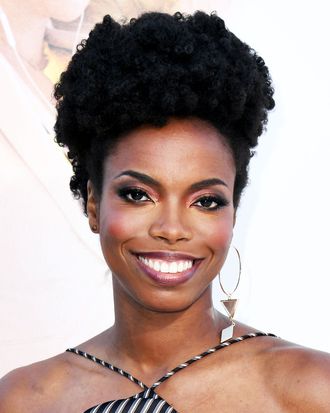 Photo: Jon Kopaloff/FilmMagic/Getty Images
Sasheer Zamata is a comedian and an actor. She is also a millennial with a face, which made her the perfect face for Olay to partner with to celebrate their latest launch of new skin-care products designed with millennial women in mind.
In a stand-up set at the brand's launch party last night, Zamata introduced the new lineup which includes a light-reflecting, brightening eye cream, new fragrance-free versions of Olay's SPF and Regenerist Whips, two hydrating mists (one in a calming scent, one in an energizing scent), and a trio of clay masks in stick form. The Cut caught up with Zamata after her set to discuss more millennial things like ASMR, love languages, and bedtimes.
You recently did an ASMR video with Girls Who Code. Are you into ASMR in real life? Are you watching anything like soap-cutting videos?
I don't watch the videos, but I did recently experience, I guess, an ASMR … experience. There are people who will do it for you and guide you through it. There was a session that I was part of where this woman got a makeup brush and brushed it on my arm, and whispered in my ear, and was tapping things, and I did not know that I needed that. It was so cool, and I was like, Maybe I should … do this all the time? To chill out? And relieve stress?
You also performed at The Wing's Extreme Self Care Day, but I wasn't there to hear — what's your personal idea of self-care and how do you practice it?
That's where the ASMR thing was! My personal idea of self-care is saying no to things that you don't want to do. I used to be in a place where I wanted to say yes to everything and every single project and hang out with every single person, and I stretched myself a little too thin. I think it's really important to realize your boundaries and make them clear to people, and that will just create a more stress-free life in general by proxy.
We've been talking about times of day in the office a lot — what time do you go to bed, what time do you wake up, and are you happy with those realities?
It's so hard to say because my schedule is all over the place, since I do stand-up at night and meetings and stuff during the day. I guess I usually go to bed around 2 a.m., maybe? And I wake up sometimes at, 10, 11 a.m.?
I used to want to be a person that went to bed early — now I don't care. It is what it is, I'm settled in my ways. I'm just going to be sleep-deprived for the rest of my life and I'm okay with it!
What's your hair's love language and what's the nicest thing you've done for it lately?
For me, moisturizing my hair is my hair's love language. And I didn't know that until a couple of years ago. I used to moisturize it when I washed it, then kind of go away. But I need to periodically moisturize it so it feels good and healthy.
I've also been using natural oils and natural products instead of just anything I find at CVS. I've been paying more attention to the ingredients and what's on the labels instead of just trusting it'll be good.
[Editor's Note: I think Sasheer's hair probably scored high in Receiving Gifts, Physical Touch, and Quality Time.]
Famous people are being a lot more open about their acne and such. Have you struggled with it? Have you found any solutions that you can share with the public?
My acne is way better than it used it be. It as was weird; my face was fine when I was a teenager, and then in my early 20s, my face just exploded. But it's cleared up a lot; I do so much. I can't even pin-point one thing and be like, it's that!
I use witch hazel, I use rosehip oil … I take a shot of aloe vera every morning. Truly when I started doing that people were like "you're glowing!" so I was like, Alright, I'll keep doing it then! I'll take ginger shots and apple cider vinegar in the morning, too. I realized I'd get pimples in my cheek areas and I looked that up and it had to do with digestion. So I tried to tame whatever was happening down so that it won't show up on my face.
And to end on a Millennial note, do you have a personal mantra that you live by and if not, could you make one up?
[Laughs] Just do you!
If you buy something through our links, New York may earn an affiliate commission.