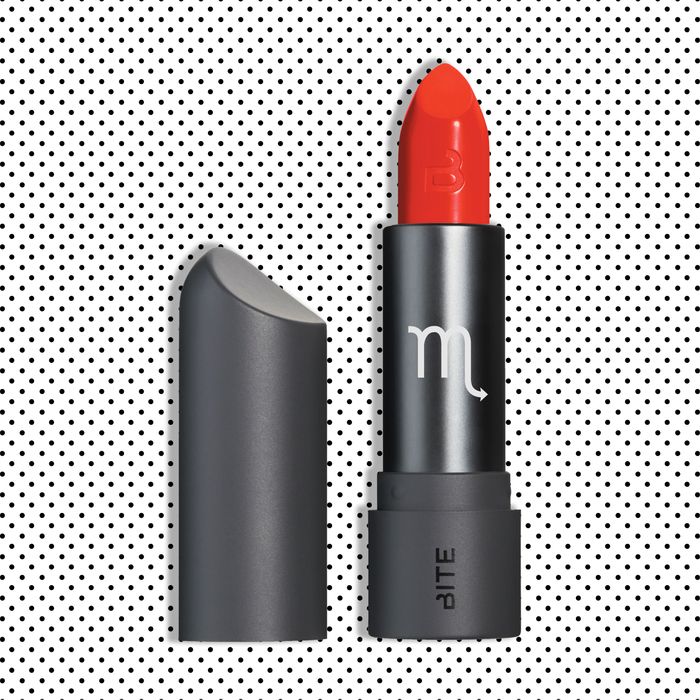 Bite, indeed.
Photo: Courtesy of the Retailer
In case you've been hiding under a rock (no judgment), you've probably heard that Scorpio season officially began yesterday. To celebrate Scorpio's seductive pull on this time of year, Bite Beauty has released a limited-edition lipstick shade inspired by the intense Water sign.
Bite has been releasing zodiac-themed versions of its Amuse Bouche lipsticks every month. So far, you can pick up Gemini, Cancer, Leo, Virgo, Libra, and now Scorpio iterations of this creamy lipstick. True to form, the Gemini version is actually two shades in one.
This very bright orange-red addition is truly very Scorpio: it's alluring, sexy, a little dangerous, and a little mysterious. Also, it's just a really fun shade for fall even if you aren't a Scorpio (maybe you're a Libra like me, who doesn't want to wear brown lipstick). The formula is supposedly very creamy and moisturizing, which is great for keeping lips hydrated as the temperature dips. Whether you want a fun lipstick for a party or simply an eye-catching shade, this shade will bring just the right amount of intensity to your everyday look.
If you buy something through our links, New York may earn an affiliate commission.