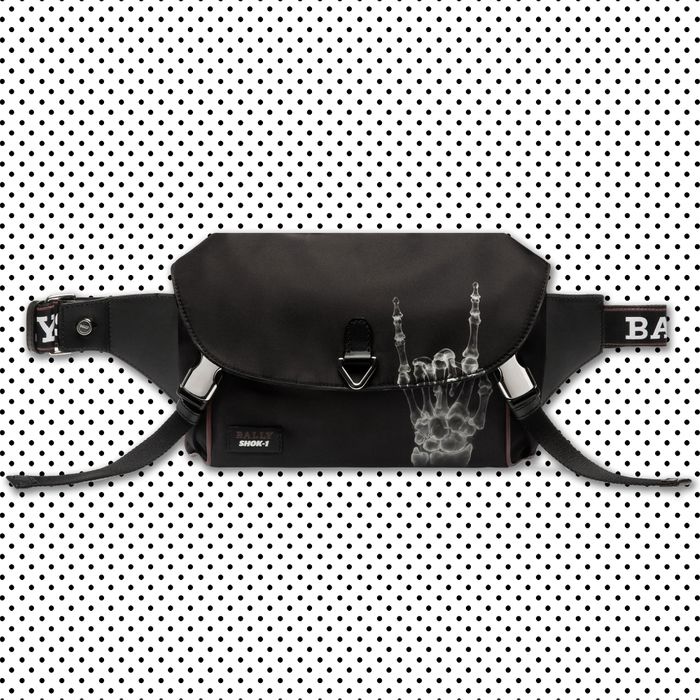 Photo: Courtesy of BALLY x SWIZZ BEATZ
What do you get when you mix the second-oldest fashion brand in the world, Grammy award-winning producer/DJ Swizz Beatz, and East London street artist SHOK-1? A giant mural of Godzilla in the iconic Tokyo neighborhood of Shibuya and a 44-piece Bally collection, of course.
Bally might be best known for classic Swiss luxury, but hip-hop has been paying attention since the '80s. Back in 1985, in "La Di Da Di," Slick Rick rapped about how he likes to wear his Bally shoes with his fly green socks. And Jay-Z's 2011 line "Bally's on my feet help me balance out well" have been well-documented. So it's not a huge surprise that the brand partnered with Swizz Beats on a line of clothing and accessories. Still, I wondered how they managed to recruit SHOK-1 to the project. As Swizz said "He's a hardcore artist — he says no to everything."
As it happened, when Swizz made the call, SHOK-1 was receptive because Bally felt so familiar. The song that started playing in his head immediately, he told the Cut, was "Vapors" by Biz Markie: "My man TJ Swan didn't appeal to her/But now he trucks gold and wear fly Bally boots/Rough leather fashion and tough silk suits." It felt personal to Shok-1, who's always been heavily influenced by music — he recalls painting his own jacket back in the '80s after being inspired by New York hip-hop culture. The idea of pairing his own '80s youth with an old Swiss brand was appealing to him.
Rather than launch the collection in Switzerland, London, or NYC, Bally chose neutral territory: Tokyo, birthplace of so many streetwear trends. The company's CEO, Frédéric de Narp, tells the Cut, "This collection for Bally made sense because it's music-related and street-related. Here is the ultimate street artist, and connected to the music world and to the hip-hop world as well." Which explains the giant Godzilla mural right next door to Tower Records store in Shibuya.
The collection features three images from SHOK-1's catalogue, symbols that reference street subcultures. The limited-edition collection just launched and is available in Bally stores, online at Bally.com, and in selected retail partners, while stocks last.
Additionally, in light of recent natural disasters striking Japan, Bally has partnered with the Japanese Red Cross Society to donate 20 percent of proceeds of the Bally x Shok-1 collaboration in Japan to support their relief work.
Shop the Story
Photo: Courtesy of BALLY x SWIZZ BEATZ
Photo: Courtesy of BALLY x SWIZZ BEATZ
Photo: Courtesy of BALLY x SWIZZ BEATZ
Photo: Courtesy of BALLY x SWIZZ BEATZ
Photo: Courtesy of BALLY x SWIZZ BEATZ
Photo: Courtesy of BALLY x SWIZZ BEATZ
If you buy something through our links, New York may earn an affiliate commission.