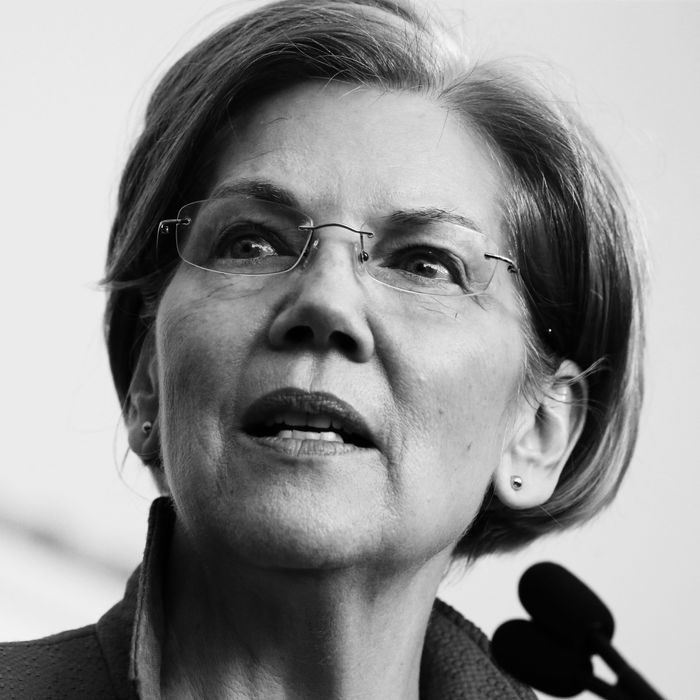 Elizabeth Warren.
Photo: Craig F. Walker/Globe Staff/Boston Globe via Getty Images
Senator Elizabeth Warren has released the results of a DNA test which shows there is "strong evidence" she had a Native American ancestor in her family six to ten generations ago, the Boston Globe reports.
The Democratic senator from Massachusetts has been widely mocked by President Trump and his supporters for her claims of Native ancestry. Trump has frequently referred to Warren as "Pocahontas", claimed that she has "pretended to be a Native American in order to advance her career," and offered to pay $1 million to the charity of her choice if she took a DNA test that proved she had Native American heritage.
Does Warren's choice to take this test indicate that she is considering a presidential run? Will the president make good on his $1 million promise? Is it gross and problematic that we're doing in-depth racial analyses on our politicians now? Probably; probably not; and yes. Here's everything we know.
First of all … why is Elizabeth Warren taking a DNA test?
Questions surrounding her native ancestry have hounded Warren for years. As the Washington Post reported, back in 2012, when Warren was running for the Senate, the Boston Herald published a report that said when she was a professor there in the 1990s, Harvard Law School cited Warren's Native American background as an example of its own diversity in hiring. Warren also acknowledged that she had listed herself as a minority in the law professor directory, saying she wanted to connect with "people for whom native American is part of their heritage and part of their hearts."
Warren's GOP opponent, then-senator Scott Brown, called her claims into question, saying she had tried to use them to her professional advantage, and demanded she produce evidence of her Native ancestry. One of Brown's aides was later filmed doing racist war whoops and tomahawk chops.
Warren denied her Indigenous heritage played any role in her hiring, and she ultimately defeated Brown. But questions about her background remained, and President Trump has continued to stoke them, frequently referring to her as "Pocahontas" in tweets and during his rallies.
In an email to The Cut, Warren's staff clarified, "In the most exhaustive review undertaken of Elizabeth Warren's professional history, the Globe found clear evidence, in documents and interviews, that her claim to Native American ethnicity was never considered by the Harvard Law faculty, which voted resoundingly to hire her, or by those who hired her to four prior positions at other law schools. At every step of her remarkable rise in the legal profession, the people responsible for hiring her saw her as a white woman."
But why now?
Warren is currently running for reelection, and while polls show she currently has a significant lead over her Republican opponent Geoff Diehl, many, like Jonathan Martin at the New York Times, have speculated that this is a "preemptive public relations offensive" to get ahead of any potential scandals before a widely anticipated 2020 presidential run.
What did the DNA results say?
Warren's DNA was analyzed by Stanford professor Dr. Carlos D. Bustamante, an expert in the field of genetic analysis, who found that "the vast majority" of Warren's ancestry is European," but "the results strongly support the existence of an unadmixed Native American ancestor," in her family tree "in the range of 6-10 generations ago."
Ah. So what does Trump — who promised, back in July, that he would give $1 million to Warren's favorite charity if she took a DNA test that proved she had Native ancestry — have to say about this?
After the Globe published the results of her test, Warren tweeted at the president asking him to make his donation to the National Indigenous Woman's Resource Center. Initially, in typical fashion, Trump denied he ever made that offer, despite having done so on television. Asked about the result of her DNA test, the president, who has talked about her heritage at length, responded, "Who cares?"
Counselor to the president Kellyanne Conway also responded to Warren's release, telling CNN: "I haven't looked at the test. I know everybody likes to pick their junk science & sound science depending on the conclusion it seems some days but I haven't looked at the DNA test and it really doesn't interest me to be frank with you."
Trump then added a new clause to his initial promise, saying he will only pay the $1 million if he can "test her personally" and he would "not enjoy" doing it. What does that mean? It's unclear!
This all feels very problematic.
Yes.
And, as Indigenous writer Julian Brave NoiseCat pointed out on Twitter, "This definitely doesn't make Warren Native. Indigenous identity is about belonging to a community, and Warren doesn't have that. It does mean that, like many, Warren has Indigenous ancestry."
Warren herself acknowledged this distinction in a video she released on Monday: "I'm not enrolled in a tribe and only tribes determine tribal citizenship. I understand and respect that distinction but my family history is my family history."
Warren claims to have Cherokee blood. Has the Cherokee Nation responded?
Yes, and they are not pleased. In a statement, Cherokee Nation secretary of state Chuck Hoskin Jr. wrote that "A DNA test is useless to determine tribal citizenship," and "Using a DNA test to lay claim to to any connection to the Cherokee Nation or any tribal nation, even vaguely, is inappropriate and wrong."
This post has been updated throughout the day, and we will continue to update it with new information.