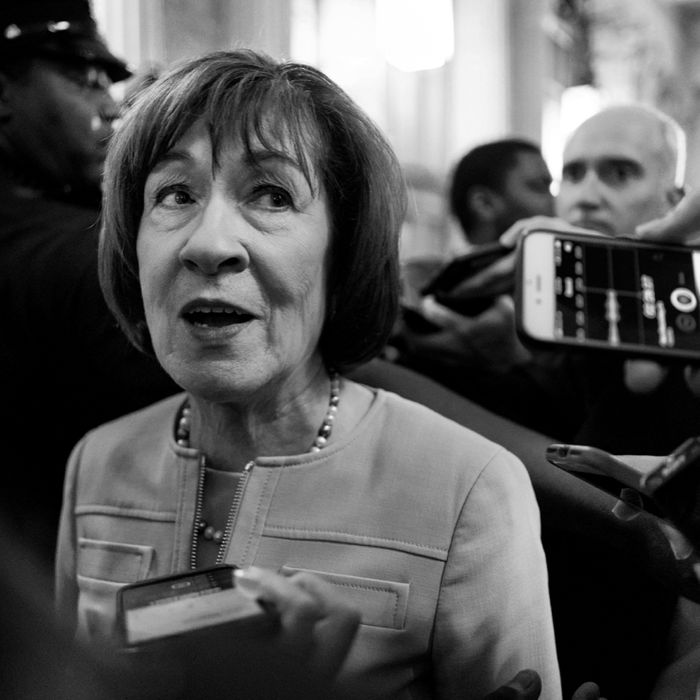 Susan Collins.
Photo: Melina Mara/The Washington Post/Getty Images
Republican Senator Susan Collins supports Supreme Court Justice Brett Kavanaugh. She must, because she voted to confirm him to the Supreme Court on Saturday, ensuring that a man accused of three different allegations of sexual assault and misconduct would be appointed to the most powerful court in the country for life.
And yet … the Maine senator seems to want to distance herself from the decision at very possible turn. There was the weeks of hemming and hawing leading up to the vote, leading an entire nation of sexual assault survivors to follow her every word, as she appeared to grapple with the decision at hand.
Then on Friday, she gave a marathon speech that often was at odds with itself. Now the day after vote, in the Republicans' victory afterglow (and hangover?), Senator Collins again tried to put some distance between her and the ugliness that ensued during the Kavanaugh confirmation hearings.
"I did believe that he should not have taken the shot at the Clintons and that in his questioning with certain senators," Collins told Dana Bash on CNN's State of the Union. "Responding to their questions, particularly Amy Klobuchar, that he stepped over the line."
But even in her criticism of his behavior, she she still empathized with Kavanaugh. "I think he reacted with anger and anguish, as a father of two young girls. …"
Senator Collins is up for reelection in 2020. A crowdfunding website for her as-yet unnamed opponent crashed on Friday, because too many people were trying to donate to get Senator Collins out of office at once.