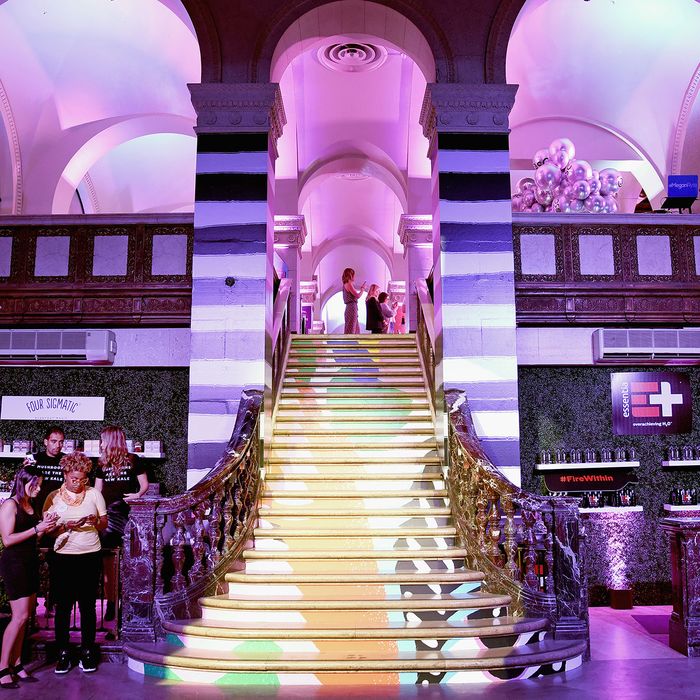 Beauty heaven is a place on Earth.
Photo: Presley Ann/Getty Images for Sephora
Was your Instagram flooded this weekend with pictures and captions expressing pure bliss, euphoria, magic, and wonder? "This is where I feel alive," people mused. Meet Sephoria-ers — people who reached beauty utopia thanks to Sephora's first-ever ticketed event. Over the weekend, Sephoria (not a typo, and not that one song by Sublime), a beauty-meets-Museum of-Ice-Cream experience, descended upon the downtown Los Angeles area.
Sephoria was essentially an over-the-top dreamworld of beauty escapes. Some big beauty names were in attendance as well: former Teen Vogue editor-in-chief Elaine Welteroth, Kim Kardashian West's makeup artist Mario Dedivanovic, and of course, everyone's favorite social-media presence, Chrissy Teigen. Each brand had freedom to create a customized experience, which seems like the beauty world equivalent of every student organization designing a float for the homecoming parade. Guests could get a blowout from Drybar, get their eyebrows shaped at Benefit, try out Pat McGrath's glitter lip kit (resurrected again just for Sephoria), and find their perfect match at the "foundation closet", which held every best-selling foundation in every shade available at Sephora.
Besides the opportunity to create an endless amount of Instagrammable moments, what was the purpose behind Sephora's decision to hold such a massive event? There are, after all, similar events (like annual Beautycon) that cater to beauty insiders. But Sephora's SVP Marketing & Brand Deborah Yeh, talked to Fashionista.com about the state of flux in the beauty world right now:
"What's interesting is that today's regular consumer could be tomorrow's brand creator and that's the fun of Sephoria, you get to participate in the full life cycle of somebody being a content creator or being a product addict to somebody actually being a budding entrepreneur. It's blending."
Social media has definitely blurred the line between who is considered an "influencer" and who is considered a "consumer", and it looks like Sephora wants to capitalize on this shift. If that means indulgent beauty parties every year, then so be it. Check out some photos from Sephoria below: