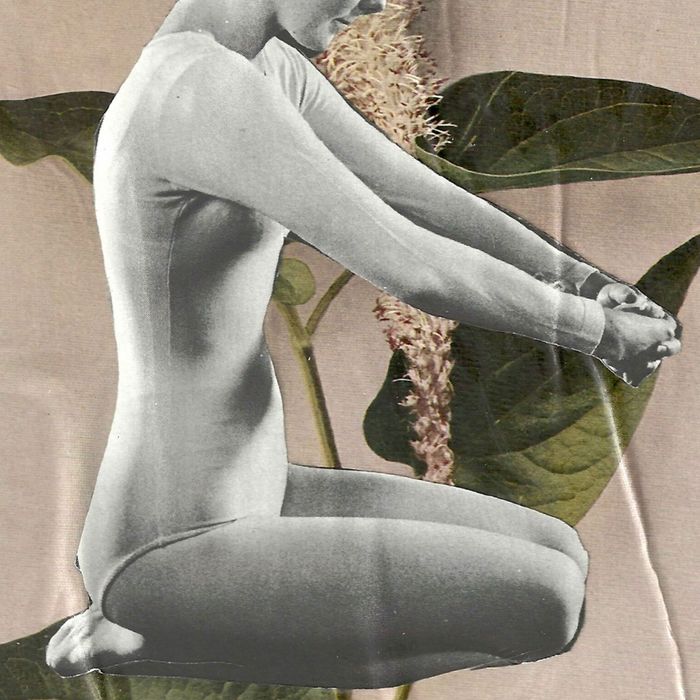 This week, a former lap dancer living at her mom's house with her husband and toddler: 27, married, straight, Silicon Valley.
DAY ONE
5 a.m. Alarm goes off. Fuck. Listen for crying baby, who we'll call R. Listen for husband, C, grumbling about a bottle. No baby, whew. No C. Snooze alarm.
How did we end up back home, living with my mom, where I wake up to pink walls every day? I did not plan on getting pregnant, but I knew I wanted to keep it without question. He's 14 months old now, and I love him more than anything. Still, life with a baby isn't easy.
5:20 a.m. Get up now, bitch. You're the one who thought you could somehow maintain your hot yoga morning detox routine, stay fit, and make money on your side job …
5:25 a.m. Don't think about it, don't rationalize the getting-up process, you're going to hate yourself for missing yoga. It's your one hour of me-time: It's your ONE. HOUR. Success, I'm up.
7 a.m. Yoga makes me so horny. So does gay porn: Two sexy, ripped men sucking each other off: Yes, please. Lying in Savasana at the end of class, I'm thinking about my favorite porn star jerking off on RedTube. He's a bearded god …
7:24 a.m. Walk in the door. "Five little monkeys jumping on the bed, one fell off and bumped his head …" I say hi to R and C.
C and I met in 2011, when I was a sophomore in college (theater school in Boston). He was working at a software company at the time (he's eight years older than me). I was behind him in line at Starbucks on Newbury Street. I was late for rehearsal while he was casually flirting with me about his bold choice of iced coffee in the middle of winter. He was hot. I got out a piece of paper, wrote down my number, shoved it toward him, and said, "I don't have time for this, text me or something." And then he did.
10 a.m. Mommy duties. Nostalgia for old mornings with C. Damn, I lived it up.
I was pursuing musical theater in New York. I was hot. I was a dancer and top earner at a members-only traveling lap-dance party. C would visit me. He'd get hard watching me dance topless, legs spread, reverse-cowgirl style, closer and closer to the eyes of a well-dressed Wall Street exec. C would follow my ass, and we'd lock eyes as I simultaneously led another finance dude to "get comfortable." Well, those days are gone.
10:30 a.m. Nap time for R. Watching sexy viking man, I come hard, twice. With a soon-to-be toddler crawling around, sex is hardly what it was in the bend-me-over-the-kitchen-table-and-do-a-line-off-my-ass days of yore. Sigh. I'm in my 20s, but I feel like I'm at least 35 at this point.
6 p.m. C and I drink wine — we splurged for the new $4 Trader Joe's Pinot (don't knock it till you've tried it). Babies are hard.
10 p.m. R is asleep. I tiptoe out of his room, cursing the whining door hinge behind me.
DAY TWO
5:25 a.m. Only one alarm today! Hot pilates time.
7:20 a.m. Today is the day C works from home and I get to see J, my Sugar Daddy. I busted my ass in class today; I'm going to look hot.
J is somewhat new. We've been fucking once a week for three months. He gives me an allowance of $3,000 per month. I'm saving it all to go to nursing school. Plus, we're planning on moving in a month, out of my mom's house. We need all the money we can get right now. We never intended to be here for more than a couple months. C knows about J — he gets off on the idea of another guy jerking off to me on the regular.
10:30 a.m. R's nap time. Send J a quick naughty pic and tell him I can't wait to blow him soon. J's into it. He's married. Trying on outfits for our date today.
12:30 p.m. Fuck, my mom's buzzing around the kitchen. I try to act casual, my heels hidden in my bag.
I'm an only child, and my parents are divorced. I've always had a rocky relationship with my dad, but my mom always supported me in theater. I went to a private Catholic high school. I was a shy kid. Sweet, into school, loved writing. I was raised in a middle-class home. We didn't vacation, but I went to private school and drove an old Toyota Camry. I didn't realize how good I had it until I was on my own in NYC with $200 to my name …
1 p.m. Airbnb date with J. This place is incredibly beautiful. J and I have an interesting relationship. I truly enjoy him, but I can just appreciate him for what he is to me: a wealthy dude whom I fuck and drink the best wine with. But who has no bearing on my real life.
We open a bottle of something expensive. Oh … fuck, he has blow. Just two lines, just two lines. Whew, I'm good, not too fucked up. Feeling it. With an SD, you have to have that balance of being fun and down for whatever, but classy. J wants to get down to business. That's fine with me.
We have sex. I don't like to call him Daddy, but he loves it. So I breathlessly moan the ever-clichéd, "Fuck me, daddy … " That does it. He is so loud when he comes. Normally I love a sexy "I'm coming" grunt, but his overgrown bear growl is not my style. Don't get me wrong, he's a cool dude, and the sex isn't terrible, but it's basic. J comes in missionary. How typical. He gives me $1,000 today, though. Yay!
4:30 p.m. Lyft home. I miss C and R. I love C. Shower.
6 p.m. C and I get sushi and sake at our favorite place with R. The owners do shots of sake with us. We love them. Bath time, stories, some more Elmo's World. Wine for us. To bed for everyone. Long day.
DAY THREE
5:25 a.m. Not today, Pilates, not today. Get up quiet as a mouse, half-asleep, put a bottle in the warmer for C, then back to bed. I'm grumpy that the day has begun. I used to get off work at this time.
7 a.m. R is up. C is up. Covers over head. This baby runs my life.
8 a.m. Mommy duties, laundry in, baby fed, cat fed, bottles washed, beds made, taking C to the shuttle for work. How did I let myself talk myself out of Pilates? It's my one hour, after all. Life feels like an endless cycle of Elmo and puréed sweet potatoes.
10 a.m. R took his first steps today! Okay, who cares about Pilates now. This is the best news!
12 p.m. Late nap time for R. While he's sleeping, I play with my vibrator to a CockyBoys video. These men keep me sane.
4 p.m. New message from potential SD on Seeking Arrangement. We'll call him T. I only have one SD, but I'm open to two. I figure, if I'm already down this rabbit hole, why not have two SDs? Hmm … Open relationship, wants to meet during the day, cute, married, kids, not interested in marrying me … potential. We make tentative plans to meet tomorrow night around 5 p.m. These things can fall through so quickly, so I don't hold my breath. He wants more pics … ugh. Needy. Maybe later.
5 p.m. C is home! Wine and walk with C and R. I'm feeling tipsy and relaxed so I send J and T a sexy pic. J never responds — he's pretty paranoid about getting caught. But I know he'll jerk off to it later. T sends me some drooling emoji. He's hooked.
9:30 p.m. Thank you, R, for this early bedtime.
DAY FOUR
5:25 a.m. Yoga is on. Go me.
7:10 a.m. Realize I've forgotten my wallet and can't buy a smoothie. Grumble and drive home.
7:30 a.m. Shower.
8 a.m. Frantically stuff my face with coconut yogurt and some granola as I prepare R for the day and get C to work. The Zen space I was in the hour before is now a figment of my imagination.
10 a.m. On my third cup of coffee at this point. It's always a race to get to the coffee before it's ice cold. Somehow by the time I circle back to the mug from running after R, my coffee says "fuck you" and loses its perkiness.
10:20 a.m. Text from T that tonight is confirmed. I send him back a flirty message to prep him for the "allowance conversation." I hate that conversation. I felt it out with T online a bit, though, so I know he's in my range.
12 p.m. Tired. Not in the mood for this date tonight, start psyching myself out. Notification from Seeking, new message from PukePirate0007. PukePirate0007 wants to know if I'm lactating because he is looking for a lactating Sugar Baby. Where do these people come from? This weirds me out on too many levels. If you have never leaked milk, I can assure you it does not feel one bit sexy. Block.
1 p.m. Wishing I hadn't accepted this date with T tonight. My period is coming and I feel like punching all these guys, right now.
5 p.m. Waiting at the bar for T. I see a man walk in, well dressed, suit and tie, this must be him. Yep, he is cute … but gay? I'm feeling gay-friend vibes here. Hmm. I order a Maker's on the rocks, he orders the same. He looks like … a deer! A gentle deer, yes that's it. I'm thinking about what C is doing with R right now and wishing I was there and not here.
5:45 p.m. Well, I'm tipsy, and T and I are reminiscing, sharing stories of when we both coincidentally lived in Manhattan (different years, his LES to my UWS). Maybe he's not so bad, after all.
6:30 p.m. I tell him I have to go home now … he wasn't expecting sex on the first meet as he has to get home, too. He kisses me. It's mediocre at best. The allowance he offers works for me. We part ways.
6:40 p.m. Immediate text from T. He had an amazing time and can't wait to fuck me. Right now, I feel weird. I just want to go home.
7 p.m. Home at last. C has cleaned the kitchen and tried his best to help with the routine for R. That's sweet of him.
10:30 p.m. So glad I only had one drink with T. I don't know if I feel it with him. I don't want to make drunk decisions with potential SDs. You just feel weird after. I want to sleep.
DAY FIVE
6 a.m. Hot Pilates, the hard teacher, the one who uses towels for abs and blocks for planks. Woof. Tomorrow, I'm taking a break.
7 a.m. Morning routine went smoothly with C. At least it's Friday.
10:30 a.m. Nap time on the dot! I'm looking forward to today, because R's babysitter plays with him today.
3 p.m. Baby-free and needing some time, some space, and quiet. I sit alone at a local coffee shop and listen to Radiohead's In Rainbows. You have to start from the beginning and work your way through. Thom Yorke always makes me take a pause. I can thank C for introducing him to me. If I had a muse/spirit musician, it would be Sir Yorke. I get to feel like the old me for a couple hours. I miss this clutter-free mind. I don't know if I am aching for a part of myself that I feel like I can never truly get back … or if I'm simply glorifying days past that, in reality, were littered with lonely nights and too much time on my hands.
6 p.m. Alone time is over all too soon. Get C from the shuttle, together we pick up R, and discuss dinner. Back to Trader Joe's for Two Buck Chuck and cauliflower pizza.
9 p.m. Watching Grey's Anatomy and drinking TJ's red blend with C while R watches cartoons and toddles around. Can I just be Meredith Grey? Forget nursing school — if that's a doctor's life, count me in.
10:30 p.m. R's over the day. Me, too, R — me, too. Bedtime.
DAY SIX
3 a.m. R wants milk, or he's misplaced his third binky in the confines of the crib; it's too blurry and too early to remember which.
7 a.m. R is awake and jumping up and down in the crib.
8:30 a.m. R is satisfied with cartoons for the time being. C is pining for a blow job. I offer sex — that's my test. If he rejects sex, I know he's just lazy and wants to come effortlessly. Sorry, C, no can do. I'm just as lazy and tired as you are right now. C masturbates. I like to listen by the door. I am a closet voyeur. I love the idea of watching a guy totally uninhibited, unaware that he's being watched. It turns me on the most.
8:45 a.m. Well, now I want to masturbate. But R wants to play. R wins. R always wins.
9 a.m. I cringe and giggle at how suburban we must look going jogging with our stroller on a weekend morning. Ah, fuck 'em. We get smoothies after. It's nice.
12 p.m. Baby is asleep … C and I pop open some champagne and clean the shit out of this house! We have to take our moments when we can. We do love Saturday morning chores. Some merry cleaning ensues.
5 p.m. I make vegetable pho for dinner. C tells me I can cook. Maybe I should become a chef. I'm too dreamy …
DAY SEVEN
8 a.m. C gets up with R while I sleep in. C is a saint. He is getting fucked later.
9 a.m. So many messages from potential SDs last night. Weed through the drunk ones, and message a bit with a new guy, S. Single, but travels here often. Looking to meet a few times a month. Potential … decided I'm not into T. I hope it was kind of mutual, because I really hate that conversation.
1 p.m. We catch the end of the farmers' market, and walk around town a bit with R. I forget about J and T for now. C and R are the only people who really matter to me.
4 p.m. I've just made spiked apple cider. Yum. C and I are talking about our plans for the future. We like to dream. I guess maybe that's our downfall, but also what makes us mesh so well. Should C take that job transfer opportunity in London? That's crazy and out of our means, but I could go to Le Cordon Bleu … Or should we make the responsible decision and move to Southern California, near C's parents, and I'll go to nursing school? Or should we go back where it all started … Manhattan … I don't know. But I do know I love this little family of mine.
Want to submit a sex diary? Email sexdiaries@nymag.com and tell us a little about yourself.