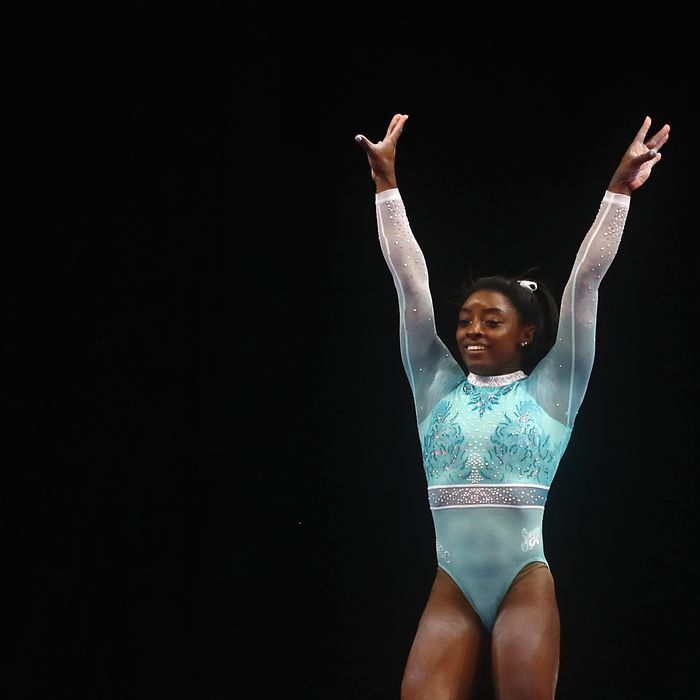 Simone Biles.
Photo: Tim Bradbury/Getty Images
In a now-deleted tweet, newly appointed interim USA Gymnastics president Mary Bono said she did not agree with Nike's decision to use activist and football player Colin Kaepernick as the face of the company. Simone Biles, gold-winning member of the USA Gymnastics Olympic team, and comeback queen, quoted the tweet and commented:
Shortly after, Bono deleted her original tweet and issued an apology. "Hey all, I know the Tweet will live on but have taken it down to move the focus to all I hope to accomplish on behalf of a great sport & those who are dedicated to it," she wrote.
Kaepernick was made the new face of Nike last month, bringing his advocacy and work as an activist against police brutality and the marginalization of black and brown communities to the brand's massive platform. While the move boosted Nike's sales, many — like Bono — criticized the company, because Kaepernick's first public protests were kneeling during the national anthem.
Bono is the interim president of the organization. In a statement released by USA Gymnastics on Friday, she was described as someone who "possesses strong leadership and executive skills," and an "outstanding communicator." She was given the position after several executives stepped down when it was revealed that they helped to conceal Larry Nassar's predatory behavior.
Biles has not publicly responded to Bono's apology.