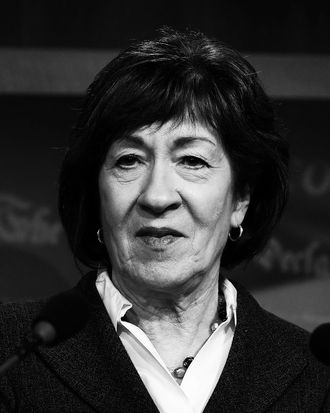 Susan Collins.
Photo: Alex Wong/Getty Images
Senator Susan Collins of Maine is no longer undecided. In a speech from the Senate floor on Friday afternoon, the GOP senator said that she found Dr. Christine Blasey Ford's testimony about her alleged assault by Brett Kavanaugh compelling, but that she would still be voting "yes" on Kavanaugh's Supreme Court nomination. Collins's declaration incensed so many that a website crowdsourcing funds for her Democratic opponent crashed because it was inundated with donations.
Back in August activist Ady Barkan, the Maine People's Alliance, and the Mainers for Accountable Leadership launched a crowdsourcing page on the website Crowdpac.com. The purpose of the page, called "Either Sen. Collins VOTES NO on Kavanaugh OR we fund her future opponent," was to encourage Collins to vote against Kavanaugh's confirmation — if she did, people who pledged money to the campaign would not be charged; if she didn't, the money would all go to whoever ran as her Democratic opponent in 2020. The recommended pledge is $20.20.
(In a statement to Newsmax shortly after the page launched, Collins said the action was the equivalent of a bribe. A spokesperson for Crowdpac told Vox the site had been thoroughly vetted and approved by the Federal Elections Commission.)
The page raised over a million dollars in a month, receiving support from celebrities like Morgan Freeman, Alyssa Milano, and Debra Messing, but it was so overwhelmed with traffic during Collins's speech on Friday that the whole site crashed. In a statement, Crowdpac CEO Gisel Kordestani wrote that their site received 90 times the average amount of traffic they see hourly, and that it overwhelmed their servers. The site was back up a couple of hours later.
As of Friday afternoon, the campaign has received over $2 million in donations from over 700,000 people. Brett Kavanaugh will, in all likelihood, be elected to the Supreme Court tomorrow evening.