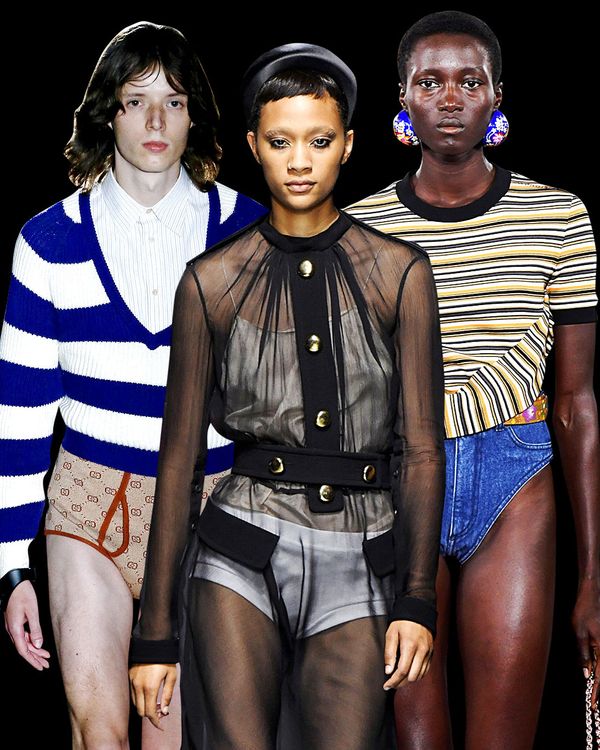 Fashion trends can tell us a lot about what's happening in the industry and in the world, from politics to culture. Which is why it felt both disorienting and entirely appropriate for the trends to be all over the place this season. Between New York, London, Milan, and Paris, it was hard to spot one over-arching theme or direction, but if you looked closely, some micro-themes emerged. Below, 11 trends that brought us joy — or at least a sense of coherence — this season. Some of them might seem nonsensical now, but we think by next spring they'll seem perfectly logical.
1. Advanced Tie-Dye
Tie-dye was everywhere this summer — so much that you'd think the trend was certifiably dead. But no, it lives! How? Designers like Miuccia Prada, Mike Eckhaus and Zoe Latta, and Stella McCartney found new ways to elevate the humble hippie pattern for next season. At Prada, for example, we saw bedazzled tie-dye. And at Eckhaus Latta, the look was somewhere in-between tie-dye, acid wash, and … a cow print? Tie-dye, it turns out, has got the range.
2. Croissant Sleeves
The statement sleeve is another trend that refuses to die, but we enjoy watching this one get bigger and weirder each season. For next spring, accordion arms seem to be the dominant shape. Valentino, Louis Vuitton, and Gucci all showed sleeves that make you look like a giant, walking croissant. Yum!
3. Circles Not Squares
We're not entirely sure how you're supposed to fit your phone into a circular bag, but we are sure that they're fantastic for carrying grapefruits. They also might make a good ball-chain weapon in a pinch.
4. The Snake Emoji But Make It Fashion
Taylor Swift took ownership of the snake emoji when it was used against her last year following her social-media spat with Kim Kardashian West. Since then, brands have taken Swifts' Reputation merch to the next level with luxury snake prints. These versions by Gucci, Saint Laurent, and Off-White feel less T.Swift and more Adriana La Cerva from the Sopranos, so of course we love it.
5. Tool Belts Not Fanny Packs
Believe it or not, tool belts are the natural evolution of the fanny pack trend, which is still going strong on the streets of Soho. If you think about it, all we ever wanted were some cool-looking pockets for the myriad things we carry, so here they are.
6. Sandals Higher Than Kanye's
After his tiny sunglasses memo, Kanye West made headlines this summer for his chunky-yet-tiny slide sandals, which he later said were inspired by Japanese footwear. Shortly thereafter, designers sent platform flip-flips down the runway. Coincidence? Maybe. All we know is that it's your move, Kanye.
7. Biker Vests
It's definitely very hard to make a vest look even a little bit cool. But we definitely are going to try next spring, thanks to convincing styles by Proenza Schouler, Alexander Wang, and Louis Vuitton.
8. Veils Are the New Hats
We can't consider this trend without being reminded of the time Samantha got a bad face peel on Sex and the City and had to wear a veil to Carrie's book party. As Samantha would probably tell you, just own it. It's everyone else's funeral, honey, not yours.
9. Fishing for Compliments
The fishing vest trend is the inevitable lovechild of Dadcore and Gorpcore, which is to say that you don't need to be a dad, or a dad who loves fishing, to wear it. Again, it's all about pockets! And now you can have one for everything, from fly tackles to granola bars.
10. Big Is the New Small
Last season, we talked a lot about our love for tiny bags. Every accessory, it seemed, was impractically small. (Except for the hats.) But as fashion trends go, we're now into the opposite. Even Jacquemus, purveyor of the tiniest tiny bags, showed a bag big enough to fit a first-grader. The good news is, we're really expanding the limits of carry-on luggage.
11. Underwear … And That's It
We've written about this trend not once, not twice, but three times, now. And at great length. Which is all to say: It is our favorite spring 2019 trend. What do you think?