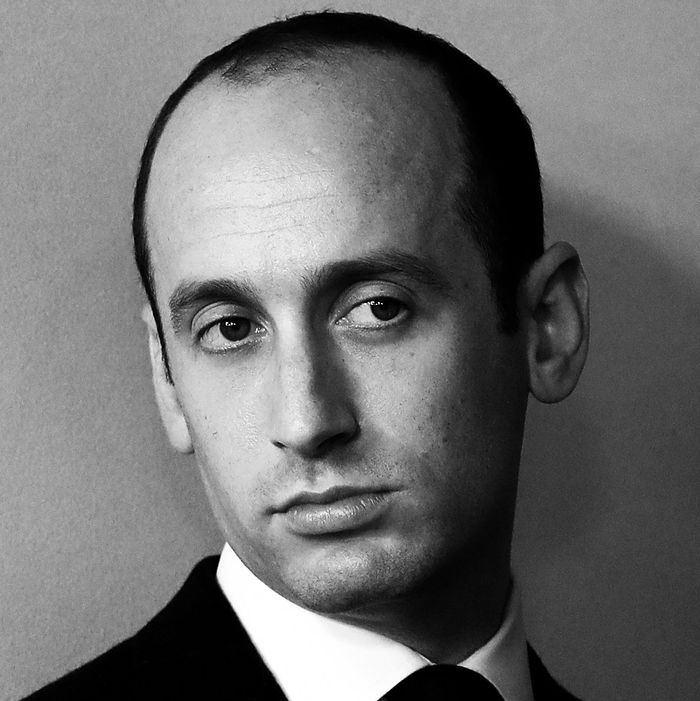 Stephen Miller.
Photo: Win McNamee/Getty Images
Just two months after Stephen Miller's uncle referred to him as an "immigration hypocrite" in a scathing op-ed, the sleepy senior Trump political adviser is getting roasted by another person from his past: his third grade teacher, who tells The Hollywood Reporter that Miller used to be a "loner" who ate glue in elementary school.
Speaking with The Hollywood Reporter, Nikki Fiske opens up about teaching Miller in third grade at Santa Monica's Franklin Elementary School in 1993. The teacher says she can "still picture" Miller in her classroom, where he was "off by himself all the time." She tells the Reporter:
Do you remember that character in Peanuts, the one called Pig Pen, with the dust cloud and crumbs flying all around him? That was Stephen Miller at 8. I was always trying to get him to clean up his desk — he always had stuff mashed up in there. He was a strange dude. I remember he would take a bottle of glue — we didn't have glue sticks in those days — and he would pour the glue on his arm, let it dry, peel it off and then eat it.
Fiske says she was "concerned" about Miller, but not academically (though she "could never read his handwriting"). Instead, she says, he had "such strange personal habits. He was a loner and isolated." The teacher wrote all of her concerns about Miller in his school record by the end of the year. The principal then had a conference with his parents, who were "horrified" to hear it all.
"So the principal took some white-out and blanked out all my comments," she says. "I wish I could remember what I wrote, but this was 25 years ago."
This isn't the first time we've heard a story about Miller's school days, of course. Last year, it was revealed in the New York Times that during high school, Miller once jumped into the middle of a girls's track meet to prove that men's are better at sports. (The White House said at the time that the girls's team was from a different school than his own … as if that helped the situation.) But hopefully by that point he was through with eating glue.