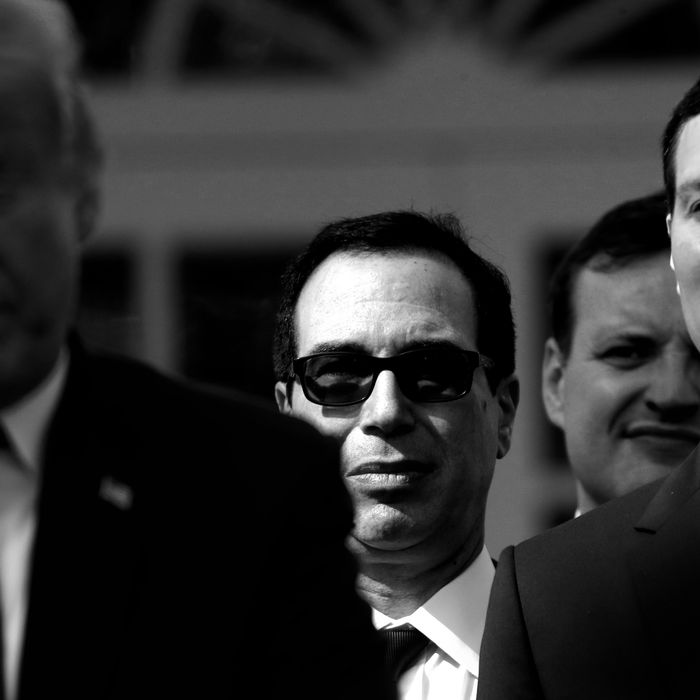 Donald Trump, Steven Mnuchin, and Jared Kushner.
Photo: Bloomberg/Bloomberg via Getty Images
The Supreme Court. The FBI investigation. The other FBI investigation. The ongoing child separation crisis. The trade agreement with Canada and Mexico. The trade war with China. The war on truth. In the eye of the storm in Washington on Monday afternoon, two eyes — obscured by darkened Transitions™ lenses — gazed back at an uncertain country.
Treasury Secretary Steven Mnuchin appeared in the White House Rose Garden along with other administration officials for a press conference announcing the new trade deal. But even before the event went off the rails as President Donald Trump criticized a reporter in bizarrely personal terms and then remarked that his embattled nominee for the Supreme Court, Brett Kavanaugh, "had difficulty as a young man" with alcohol, the attention of some viewers had already been diverted to the area just behind Trump's left shoulder.
"Steve Mnuchin's transition lenses stole all of my attention," @Sydney4Real wrote on Twitter. The sentiment was echoed widely, to such an extent that Mnuchin's office began keeping track of the tweets related to his facial accessory.
"Mnuchin's appearance here should be considered a stock manipulation-driven endorsement for Transition Lenses," said @DijitalE. A reporter for Newsweek, Nicole Goodkind, said, "God bless Steve Mnuchin's transitions lenses." Another reporter, Ben Walsh of Barron's, added: "Mnuchin's ongoing commitment to Transitions® Lenses is remarkable."
Did he wear them for calculated political reasons? Was it a statement? A metaphor? An unrelated nod to Paris Fashion Week? Or was it simply a defense against the October sun? And why do we even care? Are we grasping for any levity in this time of historic badness? Are we looking for distractions from our own mortality? I sure am. So I called Mnuchin's spokesman, former and probably also future Fox News personality Tony Sayegh, with an urgent request.
"I think this indicates that the secretary is a possible fashion icon in Washington," Sayegh joked to New York. "It's a sunny day here in Washington!"
Lamenting the absurdity of the inquiry, he added: "Only in Washington can you be viewed as controversial for wearing sunglasses."
Controversy isn't quite the word. At least not compared to legitimate fashion crises like First Lady Melania Trump's jacket or that time Kellyanne Conway violated federal ethics rules by promoting Ivanka Trump's clothing line on television.
But it's true that there is interest in what's resting on the bridge of Mnuchin's nose, a silly phenomenon possibly related to our collective Washington-induced existential crisis or to the fact that Mnuchin, unlike many of his colleagues in the administration, rarely reveals much about his personality and beliefs. The glasses are a divergence, then, from an otherwise bland exterior. Consider that when erstwhile communications director Anthony Scaramucci sported Ray-Ban aviators with blue mirrored lenses, he was the subject of mockery, yet the sunglasses were never a defining part of his caricature. And they were metallic! With Mnuchin, there's less color to work with, and so we try to see meaning where we can.
Mnuchin himself wouldn't submit to questioning on this topic, but Sayegh jotted down some specifics for New York after conferring with him. And so we now know that the secretary owns two "identical" pairs of Ray-Ban sunglasses but that only one of them features Transitions™ lenses.
"He is a fan of the technology," Sayegh said (the technical term for these lenses is photochromic, I just learned five minutes ago). He added that Mnuchin has owned them "for a while." Moderate research on this topic confirms the claim: last summer, Mnuchin appeared on CNBC while wearing them (he was, in fairness, outdoors). During that segment, he said, "And I'd just comment: these aren't sunglasses. My glasses turn color automatically."
Asked if the glasses that "turn color automatically" were selected by Mnuchin or by his fashion-conscious and controversy-prone wife, Louise Linton, Sayegh said "it sounds like he picked them out."
"I'll be honest with you," Sayegh said with a laugh, "we have really enjoyed some of the comments … He appreciates the creativity. We can definitely laugh at it." Asked if the glasses had elicited any comments from other members of the administration at the press conference, or any insults like the classic but seemingly largely retired "four-eyes," Sayegh, who does not himself wear glasses, said, "No, no, no. I think glasses are universally accepted these days, without criticism."
Mnuchin is scheduled to appear on Fox News tonight. It is unclear if he will be wearing the glasses.