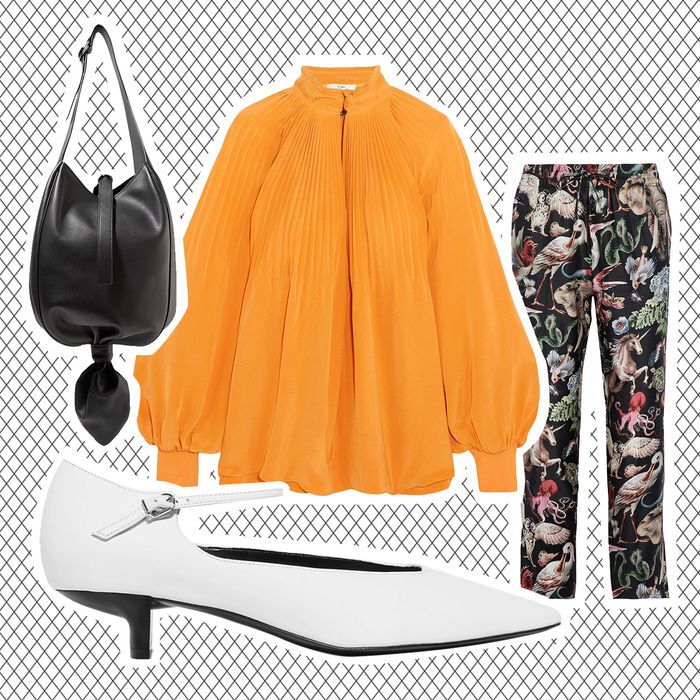 Photo: courtesy of The Outnet
It's hard enough to nail down your own signature style — so it's fair to say there's something super impressive about friends who, when they're together, manage to effortlessly complement each other's look. Case in point: writer, model, and vintage buyer Anna Z Gray, and stylist and creative consultant Brie Welch. Between Gray's minimalist-yet-quirky vibes and Welch's sartorial cool-girl edge, these two just always seem to get it right. We tasked the seemingly inseparable stylish pair (and former roommates) to share their top picks for fall from The Outnet.
Here, the two wax poetic about layers, denim, and all of the cold-weather things. Read ahead for the details.
Anna Gray, Writer, Model, and Vintage Buyer
Layers! How I've missed you. Summer was spent wearing as little as appropriately possible (which was real fun), but now I'm ready for pants and sweaters and boots with cute socks. I can wear a dotted Sandy Liang dress alone on warmer days, or over Cinq à Sept leather pants when the temperature drops ten degrees without warning, because the weather is so unpredictable these days.
Pair any heels with socks and I'm ready for everything except for rain and long distance walks. The Acne boots are for wet days…and for walkin'. Hopefully my summer-specific adventurousness will stay, and the orange Tibi top with printed Valentino pants will have regular cameos in my style play. Pair everything with a black Proenza tote and all is well in outfit land.
Brie Welch, Stylist and Creative Consultant
Despite being a pants person, I love a skirt when the weather gets crisp. Pairing a midi Marni number with a chunky knit and some Stella McCartney kitten heels or flat loafers, I'm basically back-to-school ready. Fall is my favorite season for dressing, particularly after months of wearing flimsy pieces that skimmed my humidity stricken body. Jeans are my true weakness! So putting on the deep reverse cuff situation from rag & bone is an ideal update to a classic, and perfect with the red Miu Miu cardigan — cool, but also demure — and an Aurelie Biedermann statement necklace. I think a long cream shirt dress screams confidence, especially while one is trudging through the dirty streets of New York. The Row makes a good one that goes well with a crossbody bag for hands-free activities, like holding a hot tea and hailing a cab.
This is paid content produced for an advertiser by New York Stories. The editorial staff of The Cut did not play a role in its creation.