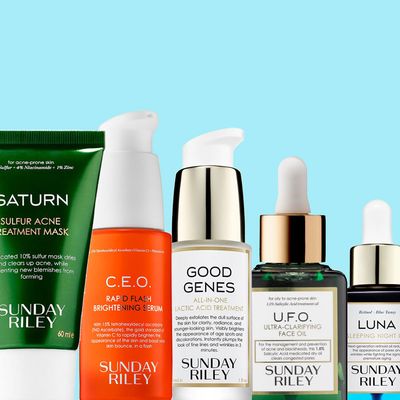 Deciem can breathe a sigh of relief: There's a new beauty brand at the center of Instagram drama. Sunday Riley, the beloved skin care brand that created the internet's favorite serum, Good Genes, is the target of a scandal involving inauthentic reviews.
Last night, the Instagram account @EsteeLaundry, which aggregates beauty-world drama, posted an allegedly leaked email attributed to an employee at the company whose name was redacted. The email directed Sunday Riley staffers to post fake reviews for its Saturn and Space Race products.
"Credibility is the key to the reviews!" says the text. "When reviewing Saturn please address things like how cooling it felt, the green color, the non-drying mask effect, radiance boosting, got rid of your acne after a couple uses."
It goes on: "If you need any help with things to come up to say, feel free to ask myself, Sunday [Riley], or Addison [Cain, the company's Integrated Marketing and Communications Manager]." It then gives lengthy instructions about how to use a VPN so that the reviews can't be traced to the employees' IP addresses.
The post quickly went viral. Today, a redditor claiming to be a former Sunday Riley employee started a thread on Reddit's Skincare Addiction forum appearing to confirm that the email was real. "We were forced to write fake reviews for our products on an ongoing basis, which came direct from Sunday Riley herself and her Head of Sales," the anonymous insider wrote.
@EsteeLaundry went on to post a screengrab of an Instagram comment attributed to Sunday Riley's account, confirming that the email was real and explaining that it came from a "former employee." "At one point, we did encourage people to post positive reviews at the launch of this product, consistent with their experiences," says the comment. "There are a lot of reasons for doing that, including the fact that competitors will often post negative reviews of products to swing opinion … In the end, our products and their results stand for themselves."
Another redditor found evidence suggesting that a company employee posted a "fake" review for a product as recently as September 20, 2018. A screenshot was posted showing a positive Sephora review created by Anthony Lopez, a Digital Graphic Designer, for the brand's newly reformulated Ceramic Slip Cleanser.
The practice of companies planting fake reviews appears to be widespread. Forbes reported that Amazon was facing a "fake review problem" as brands attempted to game the system. Racked (now Vox) also wrote about companies like Influenster that offer free products in exchange for unfiltered reviews, and The Fashion Law has noted that beauty influencers were being paid as much as $70,000 to leave negative reviews of competing products. However, this is the first time that a big, successful brand has been called out for the practice. The Cut has reached out to Sunday Riley for comment and will continue to update this article.