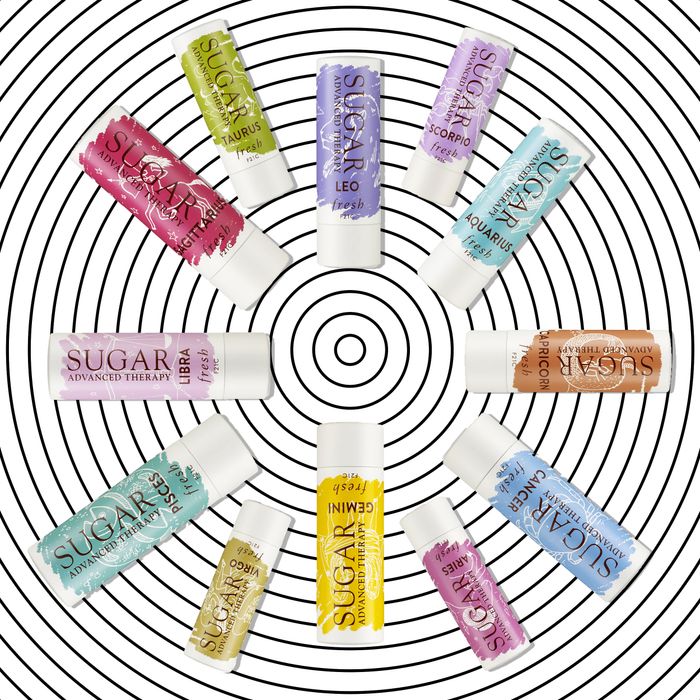 The gang's all here!
Photo: Courtesy of Fresh
Did today's horoscope mention anything about the ways in which the beauty and astrology worlds are aligning? Susan Miller, the astrologer everyone begs to sit next to at dinner parties, collaborated with Fresh to create 12 limited-edition Sugar lip treatments, one for each sign of the zodiac (yes, even Gemini).
The Sugar Advanced Therapy Lip Treatment has been responsible for lip-smacking buzz since 2004. Each of the 12 zodiac versions use the very same formula and has a cover which corresponds to your astrological calling. Plus, the Fresh website is featuring exclusive horoscopes by Miller. So it's a good balm to keep your lips hydrated no matter what finicky Mercury or Venus is doing these days.
You could buy one for practical Virgo, who will enjoy the quality formula and no-fuss approach to beauty. Cancer probably applies and removes lipstick as frequently as their mood changes (which is often), so this could help them keep their lips properly hydrated. Libra definitely already has the entire Fresh product line, but they're too diplomatic to turn down a gift. Whether you give it as a gift or just treat yourself to flake-free lips, it's great to have the stars on your side.
If you buy something through our links, New York may earn an affiliate commission.