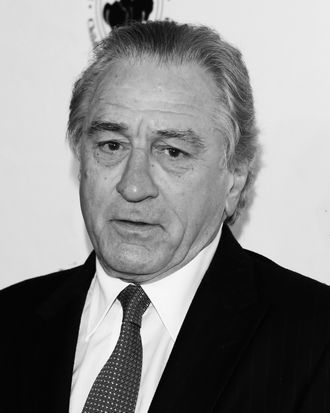 De Niro.
Photo: JEAN BAPTISTE LACROIX/AFP/Getty Images
After several pipe bombs were sent to high-profile Democratic politicians earlier this week, police are investigating a suspicious package addressed to actor Robert De Niro, CNN reports. The package — which contains a pipe bomb similar to the other deliveries, according to officials — arrived Thursday morning at the New York City offices of Tribeca Enterprises, De Niro's film and television production company and the organization behind the Tribeca Film Festival. Located at 375 Greenwich Street, in Manhattan, the building is also the site of De Niro's restaurant, the Tribeca Grill.
The package bears similar markings to others in which pipe bombs were encased, including a return address labeled Debbie Wasserman Schultz, a Democratic House representative from Florida. Just like the other packages, this one had six American flag stamps arranged in two rows, with no postmark visible on the front. Police were alerted to the package, which was on the building's seventh floor, Thursday at 4:45 a.m. They have since transported it safely to the NYPD's Bronx facility for further investigation.
Like the other recipients of these suspicious packages, Robert De Niro is an outspoken critic of President Trump. On Monday, a pipe bomb was delivered to billionaire Democratic donor George Soros at his home in the New York City suburbs; on Tuesday night, bombs addressed to Hillary Clinton and Barack Obama were found in the mail. And on Wednesday, bombs were also discovered in packages meant for Joe Biden, former attorney general Eric Holder, and Representative Maxine Waters, along with one discovered in the mailroom of CNN's New York office that was addressed to former CIA director John Brennan.
In one of his first tweets Thursday morning in the wake of the bomb package at CNN, the president chose to attack the "Mainstream Media."
The FBI is asking anyone with information about the packages to call 1-800-CALL-FBI or visit tips.fbi.gov.