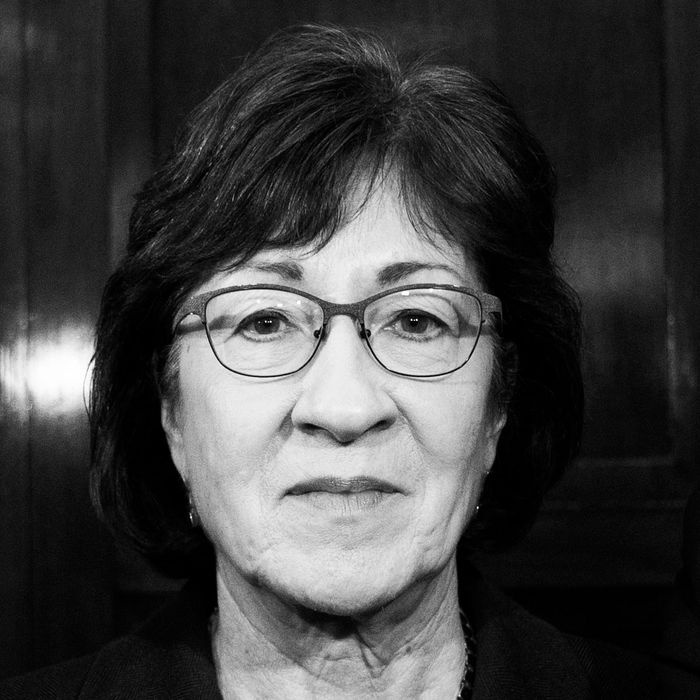 Susan Collins.
Photo: Drew Angerer/Getty Images
Police were called to Senator Susan Collins's in Bangor, Maine, on Monday following the delivery of a suspicious letter. The Bangor Daily News reported that a heavy police presence was outside of the senator's house starting at 1:39 p.m., and the FBI arrived at around 4:30 p.m. The contents of the letter are not currently known, and it is unclear why it was considered to be a suspicious package.
Senator Collins has been the subject of much critique after she voted to confirm Brett Kavanaugh to the Supreme Court earlier this month. Protesters have even appeared outside of her home in Maine, but this is the first time that police have been called to the residence. In July, women sent hangers to Senator Collins's Washington, D.C., office, but the act of protest was not considered to be a threat.
"Members of our Criminal Investigation Division are currently on scene and the investigation is ongoing. The Bangor Fire Department and a Hazmat team from Orono, Maine, are assisting the investigation," said Bangor Police Department sergeant Wade Betters to the Daily News.
A spokesperson for Senator Collins said that the senator was not at home at the time, but that her husband, Thomas Daffron, was. The investigation is still ongoing.