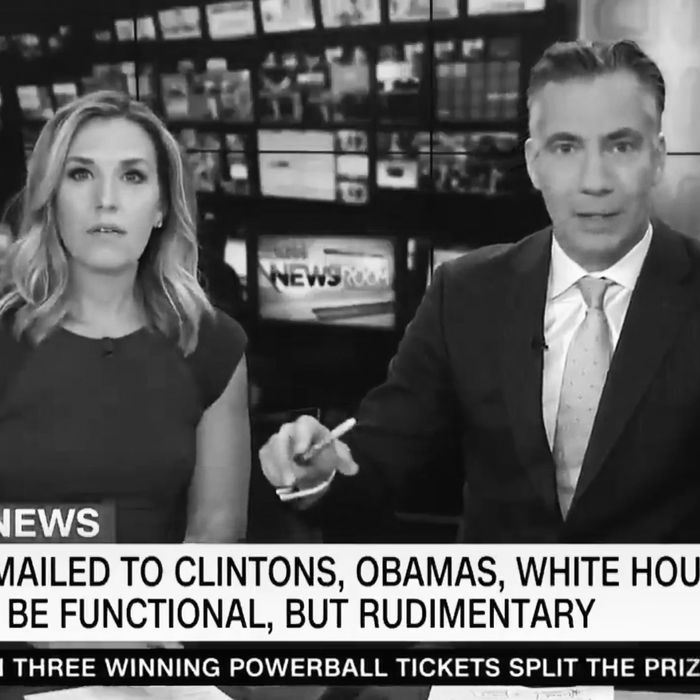 Poppy Harlow and Jim Sciutto.
Photo: CNN
CNN anchors Poppy Harlow and Jim Sciutto rushed off the air in the middle of a broadcast Tuesday morning due to a bomb threat.
Harlow and Sciutto were reporting on the suspicious packages that had been mailed to the homes of Hillary and Bill Clinton, Barack Obama, and George Soros (reports of a suspicious package being sent to the White House are "incorrect" the Secret Service said), when a fire alarm began to sound, and they were forced to leave. According to Gothamist, the New York Police Department evacuated CNN's Manhattan headquarters at the Time Warner Building after a suspicious package was discovered in their mail room.
The package contained "a pipe with wires hanging out of it" and is being treated as a real explosive.
After they were evacuated, Harlow and Sciutto continued to report from the street, confirming that the the New York Police Department's bomb squad is on the scene and sweeping the building. As the two spoke on Harlow's cell phone to a CNN anchor in Washington, D.C., officials ordered them and the rest of the evacuees down the block, away from the Time Warner Building.
According to TMZ, one law enforcement official said the package at CNN was addressed to John Brennan, the former CIA chief who now works as a contributor for CNN, and is a vocal critic of President Trump.
In addition to the suspicious package at the Time Warner Building, ABC-7 reporter Derick Waller tweeted that "what appears to a metal pipe with wires" was discovered at New York's ABC-7 news desk.
So far, no one has claimed responsibility for any of the explosives.