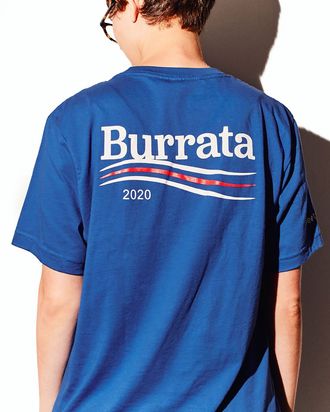 Photo: Courtesy Sweetgreen
If Sweetgreen's "Burrata 2020" merch looks familiar, that's because it is. The salad chain confirmed to the Cut that its new T-shirts were not only inspired by Bernie Sanders's campaign logo, but also Balenciaga's high-fashion take on the latter. So they're a spoof of a spoof of a spoof (a real "Triple S," if you will), which feels very two-thousand-and-now.
Sweetgreen started selling its "Burrata 2020" merch a few months ago to coincide with the launch of its summer menu, which — you guessed it! — included burrata cheese. The shirts sold out almost immediately after they were posted to Instagram with the caption "Mozz merch."
Apparently, people are ga-ga for burrata. "Burrata has a very strong following," Sweetgreen's co-founder, Nic Jammet, told the Cut. "People who love burrata really love burrata. There's a funny cult-like following around that ingredient."
Based on the responses to the shirts Sweetgreen's Customer Experience received via email and Twitter, its customers have "an emotional connection to the burrata," he adds.
Okay, so people really love burrata. Can confirm. But it is somewhat surprising for a salad chain to be referencing both politicians like Bernie Sanders and luxury brands Balenciaga. Right? Well, as Jammet explained, the company aims to market leafy greens in the same way that one would an $850 sneaker. "[We] want to make healthy food cool," he says.
In addition to the "Burrata 2020" merch, you might recall Sweetgreen's most well-known slogan, "Beets don't kale my vibe," which was a spoof on a much more explicit Kendrick Lamar single from 2013. The brand Cult Gaia has also designed Sweetgreen employee headbands for the past five years — long before the brand's hit bag came out. Other fashion-adjacent collaborators include T-shirt designer Deer Dana, and the artist André Saraiva recently designed a tote bag.
Jammet says Sweetgreen has more merch in the pipeline, although he declined to go into specifics. In the meantime, we hungrily await the Balenciaga x Beto x Queso collab. Let's make it happen.