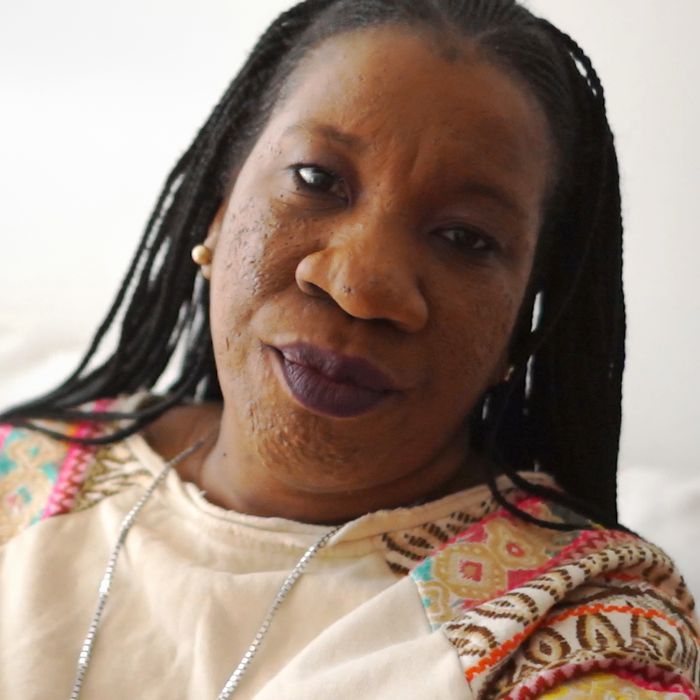 Photo: Courtesy of Madison Mills.
Long before #MeToo took over the internet, Tarana Burke was using those words to help victims of sexual violence. From 1998 to 2015, she ran healing circles in Philadelphia and Alabama, where she'd begin by sharing her experience as a survivor and invite others to join in. In October of 2017, women all over the world adopted her tagline and flooded social media to share their stories of sexual assault and harassment. Tarana Burke's community-based approach to healing had started a global movement.
But in the months since Burke's unifying language caught hold, the architect of #MeToo talked with the Cut about coming to feel that the movement has lost its way.
"What actually happened on October 15 [2017] was people raised their hands to say, 'Me too,'" Burke said in the video interview below. "They opened up and said, 'Yeah this happened to me.' And it was millions of people from all walks of life, every stripe, and I really feel like those people still have their hands up."
Burke says that in the year since the movement began, she's observed an unwavering obsession with the perpetrators — a cyclical circus of accusations, culpability, and indiscretions. In part, Burke blames the media for latching onto every salacious detail in stories from #MeToo survivors. She also blames a culture that's prone to fixate on high drama. But nevertheless, Burke has a strategy to correct the course of the movement she conceived of so many years ago, a three-part plan she's been working to launch alongside the one-year anniversary of the viral moment.
"What #MeToo allowed people to do was create community with these shared experiences," Burke said. "You have a built-in group of people who automatically gets you, who automatically believes you, who automatically wants to hear you. That's the wildfire of it."
Burke says the movement is actually working when the public understands that there is no expected narrative, standard perpetrator and victim, or archetypical story of abuse.
"We are working diligently so that the popular narrative about #MeToo shifts from what it is," Burke said. "We have to shift the narrative that it's a gender war, that it's anti-male, that it's men against women, that it's only for a certain type of person — that it's for white, cisgender, heterosexual, famous women. That has to shift. And I think that it is shifting, I really do. But that's a part of our work, too."
Burke says she also wants to shift the focus back to survivors. "At the end of the day, there is a body of work that we're building to help those people who have their hands raised. And I'm proud of that."
The work itself is threefold and starts with a recently launched website, metoomvmt.org, which lists resources for survivors of sexual violence and their allies. When the site launches, phase two will involve survivor leadership-training programs to teach trainees to start their own survivor-support programs. Finally, Burke hopes to institutionalize the healing circles that she began running more than a decade ago.
As the one-year anniversary passes, Burke is hopeful, but she says she's not delusional.
"I do think that in the next decade we can shift through this work," she said. "We can shift how we talk about it, we can shift how we respond to it, we can shift how the culture understands it — because it's going to make a difference in the number of sexual assaults that we see. It's going to make a difference in the way people respond to survivors of sexual violence, and that difference is really everything."