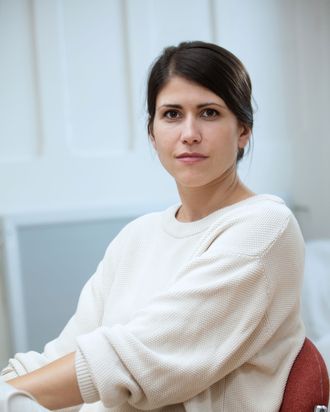 Gosia Piatek.
Photo: Courtesy of Kowtow
Few designers know their product chain like New Zealander Gosia Piatek does. Through her decade-old brand, Kowtow, Piatek creates minimal, seasonless designs that are sustainable down to the buttons (seriously, Piatek said it took a while to introduce buttons because they wanted sustainable ones). Piatek follows the brand's cotton "from seed to garment," meaning they know where it was grown, processed, and sewn into clothing. And she only works with factories that are certified to have socially acceptable practices in the workplace.
But her clothes stand on their own merit. At almost six feet tall, Piatek prefers simple clothes that have some interesting proportional element. We spoke with her about surfing, essential oils,and trends.
How do you thank someone for a gift?
Give them a hug.
What's your dream vacation?
In nature, far away from people, and in like an Airbnb house near the ocean.
What's a good book on your coffee table right now?
I've got one in New Zealand that's about surfing around the world. My partner bought it for me.
Favorite piece of furniture in your apartment/office?
In our workroom in Wellington, NZ, we just splashed out on these beautiful Simon James modular sofas that have been upholstered in New Zealand wool. They're great for having Friday night drinks and meetings.
What would you never wear?
A crop top, like one where you can actually see the tummy. Or exotic fur or leather. It's weird.
What is a trend that you like right now?
I really like how in London, people are not scared to be themselves. They'll wear what they think represents themselves, which is what makes London a visually inspiring place. I think that's cooler than anything.
One you don't understand?
I'm pretty open-minded. I feel like if I say something, in six months I'll like it. My arms are easily twisted.
What's a piece of advice you think about a lot?
If you don't try, you won't know. This gives me courage to do most things in life.
How do you like to relax?
I'm an active relaxer. I was just on holiday in France and every day we went either kayaking or hiking or surfing. I like being outside, for sure.
Shoes you wear most often?
White canvas sneakers. I like the canvas Vejas and in the winter I wear R.M. Williams boots.
What's your favorite …
Flower?
Poppies, especially wild ones that take up entire fields in Europe. It's so magical.
Jeans?
Our jeans.
Candle?
I don't really care about scented candles. I like essential oils, they smell less fake. I'd rather have lavender burning in an oil burner than a scented candle.
Scent?
Lavender. Although my partner says it reminds him of grandmas.
Sheets?
Cotton sheets and a linen duvet cover.
Suitcase?
I have my eyes set on a Rimowa case. I like the idea of it lasting forever.
This interview has been edited and condensed.
Shop the Story
If you buy something through our links, New York may earn an affiliate commission.