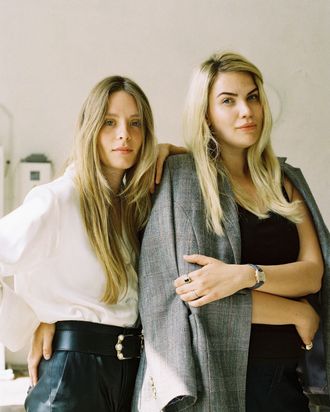 Asya Varetsa and Kate Zubarieva.
Photo: Courtesy of Sleeper
Asya Varetsa and Kate Zubarieva take lounging seriously. Very seriously. Their brand, Sleeper, consists entirely of pajamas that are nice-looking enough to wear all day. They're best known for their billowy nightgown with puffy sleeves (which has a bit of a prairie dress vibe), but they've expanded to pajama sets with feathered cuffs, robes, and linen slips. We spoke with them about trends, early-aughts style, and men's Uniqlo shirts.
How do you thank someone for a gift?
AV: Giving the warmest hug.
KZ: I always try to take a short break to realize how I feel when I get a gift. Only after that I thank this person or give a feedback. I don't have any standard reactions; I am a human being, after all.
What would you never wear?
AV: A Halloween costume.
KZ: There is no such thing, I could wear anything.
What's your dream vacation?
AV: Something unplanned and unexpected.
KZ: To fly over Kamchatka peninsula on a helicopter.
What's a good book on your coffee table right now?
AV: Watchmen.
KZ: Vladimir Nabokov's Letters to Vera. Highly recommend.
Favorite piece of furniture in your apartment/office?
AV: My side table in the shape of a sheep.
KZ: My great-grandpa's chair from his office.
Last show you binge-watched?
AV: Curb Your Enthusiasm.
KZ: The 15th season of Keeping Up With the Kardashians.
Secret to hosting a good party?
AV: Good food, a good laugh, good people.
KZ: To play music that was popular when my guests were in their 20s; to invite only those people whom I actually happy to see; and, of course, lots of cocktails.
What is a trend that you like right now?
AV: The trend of no-trends. I love that we starting to forget about the word "trend" and the word itself is not trendy anymore. The most important thing is you and what you love.
KZ: I adore the feminine vibe of early 2000s.
A trend you don't understand?
AV: Why people are moving to Manhattan.
KZ: When people make drama out of nothing.
Favorite museum/gallery?
AV: De Young Museum, not the museum itself but the Observation Tower.
KZ: Kyiv National Museum of Art, for their rich collection of avant-garde.
Shoes you wear most often?
AV: Mules.
KZ: Classic Reebok sneakers.
What's your favorite…
Flower?
AV: Mimosa.
KZ: Red rose.
Candle?
AV: Unscented White Pillar Candle.
KZ: Any rose-scented one.
Scent?
AV: Wet concrete after the rain.
KZ: Warm Cotton by Clean.
Sheets/bedding?
AV: Linen white bedding.
KZ: Only white, well-ironed, made with a high-quality polished cotton.
Pillow?
AV: Soft, cold, and big.
KZ: The one that's filled with feathers.
Restaurant?
AV: Weekly Sunday dinner with friends at my Brooklyn apartment.
KZ: Goocha in Tel Aviv.
Suitcase?
AV: Black, Muji.
KZ: Lojel.
Socks?
AV: No socks.
KZ: Fila.
T-shirt?
AV: Men's white cotton Uniqlo, rounded neck, size large.
KZ: White tees from Uniqlo, or the ones with my favorite bands printed on them.
Shop the Story
If you buy something through our links, New York may earn an affiliate commission.